Vitasta partners Sage for a bigger basket of books Old 17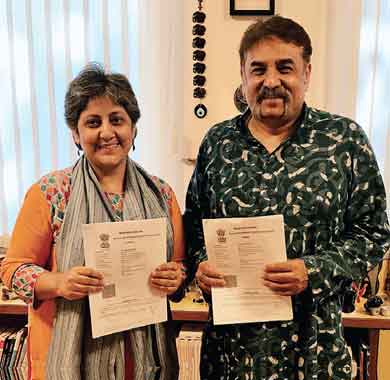 Vitasta Publishing has joined hands with SAGE for a joint imprint SageVitasta. 'Vitasta is determined to be unique and our partnership, we hope, brings fulfilment to both Vitasta and Sage's goal to provide the best among books for our cherished readers', said Renu Kaul Verma on the occasion.
Vivek Mehra, MD and CEO, SAGE India, and Renu Kaul Verma, MD, Vitasta Publishing Pvt Ltd, formalised the association by signing an agreement at a meeting held in New Delhi.
Vivek Mehra added, 'I am delighted to join hands with Vitasta to form an imprint that fearlessly captures the critical and reigning issues of today's world. This partnership strengthens our endeavour to support passionate publishing in order to promote quality content by path-breaking authors. SAGE is known for its commitment to quality and innovation, and our association with Vitasta constitutes our fourth agreement with independent publishers. We look forward to working with Vitasta and hope to reach an even wider discerning readership'.
Two different skill sets/different foundations—one international and one boutique; one focused on social reformation and one on education—with some overlapping areas which provide the common baseline—bringing quality books to the reader, young and old. Vitasta believes in freedom of speech. Set up in 2004, Vitasta has always endeavoured to dare the system and challenge outdated thoughts and social practices even when politically incorrect. As a publishing organisation, Vitasta identifies pressing issues and gives voice to authors presenting different viewpoints. It turns manuscripts others are afraid to publish into bestsellers, said the publisher.