Medium matters as it takes me closer to booklovers
Karthikeyan Pugalendi
Proprietor, Vanavil Puthakalayam
---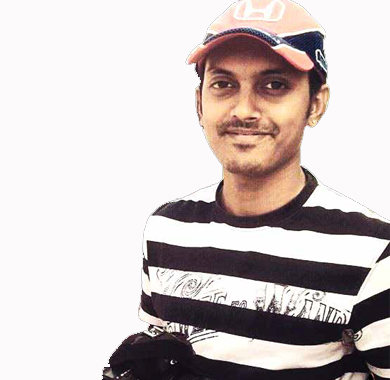 Murali Kannadasan joined his father, Gandhi Kannadasan, in the familyrun publishing house Kannadasan Pathippagam, in the capacity of Director after a brief stint at an ad agency. With a Masters in marketing from Victoria University, Australia, Murali is also passionate about RC Racing and has won a National Championship as Radio Car Racer. He runs a company named Joy Rising Hobby exclusively for supporting and mentoring RC Racers. Book Link asks Murali how it feels to be bathed in the glare of his famous grandfather, the poet and lyricist Kannadasan?
Murali Kannadasan: Poet Kannadasan (24 June 1927 – 17 October 1981) was heralded as one of the most important writers in the Tamil language in the 1960s and '70s and Tamil Nadu's Poet Laureate. It is a great privilege to be born to a great poet's family. There are pros and cons but I eventually learned to live with it. Until I was 20+ I never really realised the grand stature of my grandfather. It was when I left for my Masters in Marketing in Melbourne that I felt the actual impact of being born in such a family.
I was born a year after my grandfather had passed away, precisely on the day the family was about to do the 1st year of the passing-away rituals. We often get compared, asked if any of us write poetry, some may even go to the extent of asking us to recite one of the many of my grandfather's poems. We all achieve in our own independent ways but such a surname definitely adds more value to our lives.
I have done lots of reading about my grandfather and have the privilege to sit beside my father at work. I have learned a lot about my grandfather from stories of my father's interaction with him. My biggest sorrow is not being lucky enough to have spent some time with him. It is my grandfather's fans who motivate me the most, they always want to know more and get closer to the family. I am constantly creating platforms to make my grandfather known to the present and future generations. To me, he defines how to live one's life, his songs depict his experiences, good or bad is how one wants it to be.
When I see the warmth with which people who had known my grandfather receive me, it inspires me to know that a man can transcend generations with his work and the legacy continues.
What competitive edge do you think does a publisher from a traditional publishing background have over the new crop of digital publishers?
Digital publishing is an added bonus to a traditional publisher as the global reach is enormous. As a traditional publisher, what we have is great goodwill, brand recognition and a very loyal customer network. Digital publishing is yet to gain the anticipated momentum. Most booklovers still stick to the feel of reading a book the traditional way, accepting the fact that excessive use of gadgets is a fad. For most of the current generation who plan a getaway vacation, the main item on the agenda is a secluded location away from gadgets.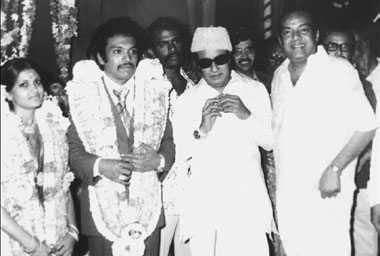 Photo of the poet Kannadasan, with the famous politician film star, MG Ramachandran. Kannadasan songs were used in almost every film of those days.
You have been dealing with audio books of Kaviyarasar for quite long. What are the challenges you have faced in terms of encryption and cost?
Audio books were available in Cassette form in the 1990s but the market wasn't big. With lots of online platform for audios and videos, I teased and tested the market with sample audio books. The traction was huge and some of it went viral.
Content is the key and pitching the right audience calls for meticulous planning. I took the dive well aware of the fact that piracy might nip the business in the bud. No matter how elaborate the encryption may be, there is always a way to break it. I focused on Pricing, with the guidance of my father who has been in this business for long. He is also an advocate and I took his advice seriously and came up with a strategy to counter all negativity. Funny how people around you are all about throwing caution to the wind but never give you a solution. Lucky for me, the reverse psychology works as well. Cost of making a CD is very similar to that of a book, so we hit a sales volume that could allow pricing a CD cheaper than the physical book in order to penetrate the market and negate piracy in one stroke.
Tell us more about your selfpublishing venture?
An entrepreneur is the one who sees opportunity and seizes it. Kannadasan Pathippagam is very selective about the books that go to print. But the books that get rejected might still serve a niche audience or a closed group. The moment a script is off my table, it still goes to another publisher or a printer whose competencies are entirely different. In any business, the Customer is the King. Akin to that, in self-publishing the AUTHOR is the KING. I just created a platform for the KING to be in more demanding shoes.
A self-publishing venture is a Win Win. An author spends his money on getting the book printed; I extend support, acting as an agent to get it to all existing channels, work together on promotions and launches. If the author chooses to go with a specific publisher, I help them negotiate the terms and also get them reports on their royalty. Being a 'traditional' publisher, we do it for all and sundry.
You have been very vocal about digital rights and piracy. What are the steps you have taken to protect your content from possible infringement (DMCA)?
Murali Kannadasan: We have had to bear the brunt of digital piracy upfront. In Tamil, Arthamulla Inthu Matham (poet Kannadasan's treaties on religion in personal life) is the most downloaded book online. Some links have had more than 1 lakh downloads. Some were scanned and uploaded, and some have taken the time to type and upload. The uploaders say, they intended to do free service. But people have to understand, nothing is free. The traffic attracts advertisements. Their cost is covered. It's the original publisher who always becomes the loser.
Instead of throwing tantrums, I learned to see the positives. If your books have invited digital piracy, It means it is in great demand by those who cannot access the physical copy want to read it somehow. So I made it digitally available first, before I started taking down the links.
Taking down was the hardest part, especially after it has gone viral once. It took me 3 months to completely wipe out the source. DMCA (Digital Millennia Copyrights act) is implemented only in the US. Most blogs and file-sharing servers are based in United States. With a long term view, I invested enough in getting myself well versed in DMCA and started to represent myself directly and took down 250 links for various books published by us. Our Audio books were uploaded even in youtube. We managed to take them down as well. Wasn't easy but I can vouch today that it is definitely possible. DMCA is normally pushed through Agents and Lawyers; it is quite a drill, sparing resources for all the documentation needed to prove you are the copyright holder. Proactively, I created a format and list of all the documents that may be mandatory to prove ownership. But once we were in, we went ahead on war footing till closure. Now I challenge my close circle to hunt for links, when they do find one, I take them down as well! You have to run the mill. There are no two ways about it.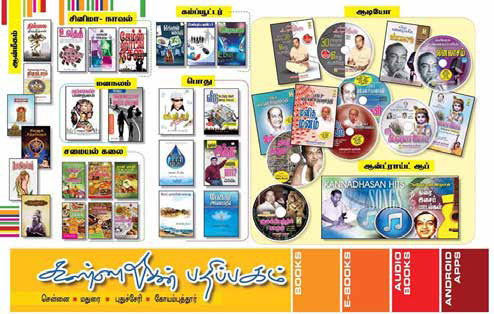 In order to counter the turbulence of the electronic medium, how do you see the business model change in terms of production, marketing and distribution?
Electronic medium is a silver lining in the cloud. You do a global launch, sitting at your office in India. The influence of this has made my work very similar to that of Automation in the IT industry. When you have done all the hard work to know the drill in and out, you should be getting smart at it as well. To break your question into various parts,
Pricing: I use Excel to the optimum. My resume when I used to work outside said, 'Well versed in MS office'. I didn't know Excel was part of it! Excelling in Excel is just too easy when you know the formulas. Math is my favourite subject. So I tailormade a formula for Budgeting/ Pricing of a book. All I have to do is just feed in two or three fields and Excel tells me my Cost price and profit margin. So I just keep keying in various prices to know which one gives me a good profit and, still keep the unit price of the book as low as we can, instead of going in for a flat rate. The formula covers all expenses incurred in production.
Production: Next in our pipeline is devising a formula for the procurement of raw material. This will help us place orders at the click of a button. The more automated the production gets, lesser the dependency on staff.
Sale: Recently I included another feature to track book production archives. You can see your previous print run and decide you want to increase or decrease the number of books printed, thus helping to streamline your investments and regulate the cash flow. Eg: I have the last 3 to 5 years' data at my disposal when I am budgeting. The time taken to sell 1000 books will help me decide to increase or decrease the price and quantity. All data available in one place and simplicity of the formula makes it layman-friendly. These are customisations your billing software finds too sharp a turn to bend.
Marketing: It is my forte, I specialised during my MBA. I love it, as it keeps me on my toes. I test the waters with ad campaigns using keywords and we are quick to latch on to the competitive edge given by Google ad sense. Big data is the way to go. But traditional promotion channels like paper and banner ads have still not lost their sheen. We design in such a way it is suitable for both the mediums.
As far as distribution is concerned, B to C is the best way to go. With the reins of the digital platforms in my hands, I interact directly with the customer.
I have been able to sell books that even my dealer doesn't stock up. After accumulating 3 months' sales data, I educate my dealer about the demand and they stock up accordingly. Win win for all. Marketing jargons like Supply Chain Management won't threaten you as long as you don't burn the bridge after establishing a strong network of dealers while getting the information across to your customer directly. Communication must always be a two-way lane. With the dealer. With the customer. In a nutshell, I don't neglect any medium as long as it takes me closer to booklovers locally and globally.