Education
In an Indian children's book
Israel protests Hitler among 11 inspiring leaders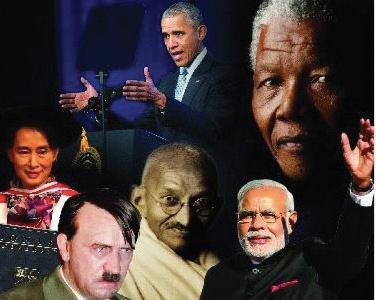 A children's book published in India contains Adolf Hitler as one of the 11 'Inspiring Leaders' it showcases. The book is published by Pegasus, an imprint of India's B Jain publishing house.
The Simon Wiesenthal Center, Israeli, a humanitarian organisation, has denounced the publishing group for selling the book at the Krithi International Book Fair in Cochin as well as on their website. The Wiesenthal Center has demanded that Pegasus Books remove the book from circulation and from its online store. At the time of going to press, the book listing still appeared on the website. Shaming India, the cover contains Indian Prime Minister Narendra Modi just next to the man the world sees as a 'mass murderer'.
The Jerusalem Post reports, Mahatma Gandhi, Barack Obama and Nelson Mandela would likely be dismayed at being put in the same category as Adolf Hitler –but that is exactly the case in an Indian children's book about inspiring leaders.
'In the time that feels devoid of great leadership, we have found men and women who will inspire you', reads the Pegasus product description of the book Leaders on the Pegasusforkids website. 'Some of them are famous, others little known, but all of them energize their followers and try to make the world better', the description says.
'Dedicated to the betterment of countries and people? Adolf Hitler? This description would bring tears of joy to the Nazis and their racist neo-Nazi heirs', the Wiesenthal center said in a statement. 'Adolf Hitler was a visionary–his vision almost destroyed our planet; started WWII–which left tens of millions dead and mass murdered six million Jews during the Nazi Holocaust', charged Rabbi Abraham Cooper, the associate dean of the Simon Wiesenthal Center and director of the Jewish human rights NGO's global social action agenda.
'Placing Hitler alongside truly great political and humanitarian leaders is an abomination that is made worse as it targets young people with little or no knowledge of world history and ethics', Cooper said. Annshu Juneja, a publishing manager at the imprint, told The New York Times that Hitler was featured because, like Obama, Mandela and Gandhi, 'his leadership skills and speeches influenced masses'.
'We are not talking about his way of conduct or his views or whether he was a good leader or a bad leader, but simply portraying how powerful he was as a leader', Juneja said, justifying the publishing. The publisher also told the Times that it had not previously received any complaints about the book, including from the Simon Wiesenthal Center.
However, the clarification did not convince anyone, but as yet another example of uncontrolled publishing in India, which often is mindless and is allowed to be offered to children in India. The Cochin book fair organisers, like most book fair organisers in India, too could not care less what is being given to children and all this is possible because there is no administrative regulatory mechanism in place in India.
In addition to the aforementioned leaders, Indian Prime Minister Narendra Modi, British statesman Winston Churchill and the controversial French leader Napoleon Bonaparte are among the 11 featured leaders. Also included is incumbent State Counselor of Myanmar Aung San Suu Kyi, a Nobel Peace Prize recipient. She has recently drawn fire for her silence over the Rohingya crisis, for which Myanmar has been accused of ethnic cleansing.
Pegasus lists offices in the United Kingdom, UAE, Mexico, Ghana, Nigeria, Mauritius and Solomon Islands.
Tales from Indian coffee houses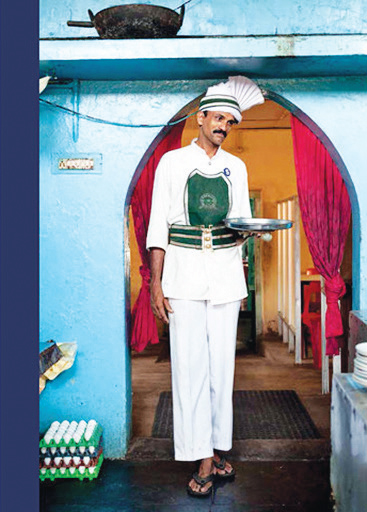 Stuart Freedman first visited India on an assignment in 1994. To escape from the hustle-bustle of Delhi's chaotic streets, he found himself sitting in Connaught Place's Indian Coffee House. The coffee house offered solace from all the commotion of the streets and became a place where he could sit and reflect. It also reminded him of the cafes he used to visit during his childhood in Hackney, London.
On several assignments through Jaipur, Kolkata and Delhi, to name a few, he discovered that coffee houses were great places to learn more about the locality. For years, he continued to visit different coffee houses all over India. He realised the importance of such a place to the locals, as it acted as a ground for them to discuss politics, economics, on-going events, for students to mingle and for families to visit together. Everyone came to the coffee house and for Freedman, it represented the 'constantly changing theatre of the people of Delhi'.
The depth of his relation to coffee houses struck him even more as he started adding a few pictures of them to all of his assignments in India. In the end, he realized that there was more to them and that they were themselves exhibitions of endless art waiting to be captured. Hence, Freedman went around India to more than thirty coffee houses from 2010-2013, collecting photographs for his book. He was able to capture the art he could see in photographs with ease and this is evident through his marvellous photography in his book, Palace of Memory.
The Palaces of Memory: a nationwide collection of images and writing from thirty Indian Coffee Houses was published in England in 2016 and was a finalist for best photography book of the year in America. Now, Tasveer gallery has published an Indian edition of the book and are presenting an exhibition of forty photographs from it called 'Tales from the Indian Coffee House'. The exhibition was held from 8th-15th March at Bikaner House. Tasveer is the only member gallery from South Asia to be a part of The Association of International Photography Art Dealers (AIPAD).
An Indian novel like no other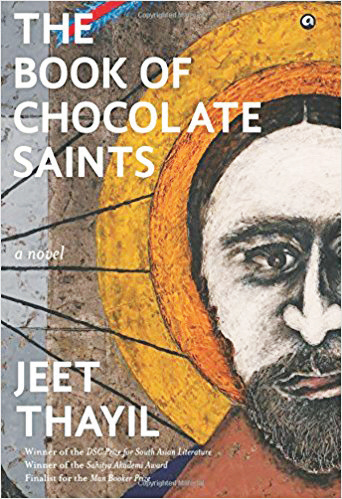 Jeet Thayil's strongly autobiographical work rejects the questions of family and identity that preoccupy most contemporary Indian fiction. His new novel, The Book of Chocolate Saints, is a metafictional history of Mumbai's literary scene, a furious satire of Western attitudes to Indian writing and an exploration of the complexity of the diasporic experience, it is also a rich and densely realised work of the imagination that simultaneously draws closely on Thayil's own experience.
Born in Goa, and displaced first to Mumbai and then to New York, he is modelled in part on Dom Moraes (to whom the book is dedicated). Xavier is famous for his appetite for alcohol and women, tastes that have, as the years have passed, begun to catch up with him. Around Xavier move numerous other characters, perhaps most significantly his lover and carer, the photographer Goody Lol, his manager, Amrik Singh, an American-born Sikh and former bonds trader, and the rather more enigmatic figure of Dismas Bambai, a writer and poet, all based, to a greater or lesser degree, on real-life figures.
Presumably this appropriation of real people lends the novel a layer of meaning that is largely lost on non-Indian readers, a fact Thayil anticipates and bends back on itself. 'Why has no one written about the Bombay poets of the 1970s and 1980s', wonders one character early on, a question that finds at least part of an answer in a subsequent story about Allen Ginsberg's celebration of Urdu poetry he could not understand over the poetry of Indian poets writing in English. As the person relating the story declares: 'Inside the scruffy, lazy, bullshit bohemianism [the Beat poets] were blatant orientalists.'
This interplay between fact and fiction is given added energy by the novel's polyphonic structure, which interleaves interviews with those who knew Xavier with extended reimaginings of his life and other lives. With its cast of dissolute, feuding poets and metafictional gameplay, The Book of Chocolate Saints inevitably recalls Roberto Bolaño's The Savage Detectives. Yet there is nothing secondary or derivative about Thayil's novel. On the contrary, it is dense, dazzling and ferociously intelligent.
Blue bus of Kabul brings joy of reading to Afghan children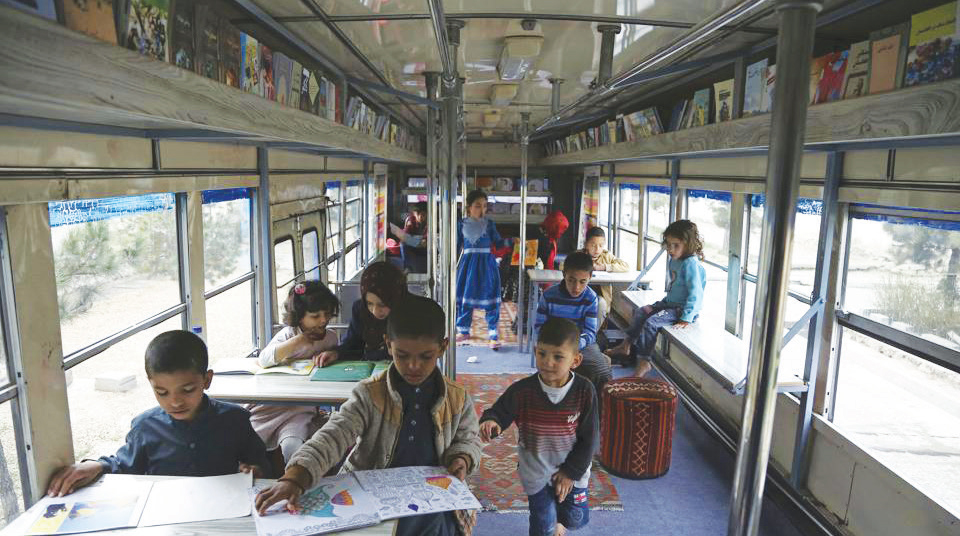 The children of Kabul love the blue bus – they rush toward it every time it pulls into their street, eager to come onboard, their young eyes brimming with excitement.
But it's no ordinary bus. Its name is Charmaghz, the Dari word for Walnut, and it's a library on wheels–the first such enterprise in Afghanistan's warbattered capital.
Inside the bus are rows of neatly stacked books for children, hundreds of them in both Dari and Pashto, the two main languages in Afghanistan. And small tables and stools for the kids to sit on as they discover the joy of reading.
The library was the initiative of Freshta Karim; a 25-year-old who recently got her master's degree in public policy from the University of Oxford, England. She wanted to give Kabul's children something badly missing in her own childhood—the chance to widen one's horizons, free of the shadow of war and poverty.
The idea came to her two years ago, Karim said, when she was hosting a small reading club for children at her home. She thought about ways to expand the project and bring reading opportunities to more children in the city.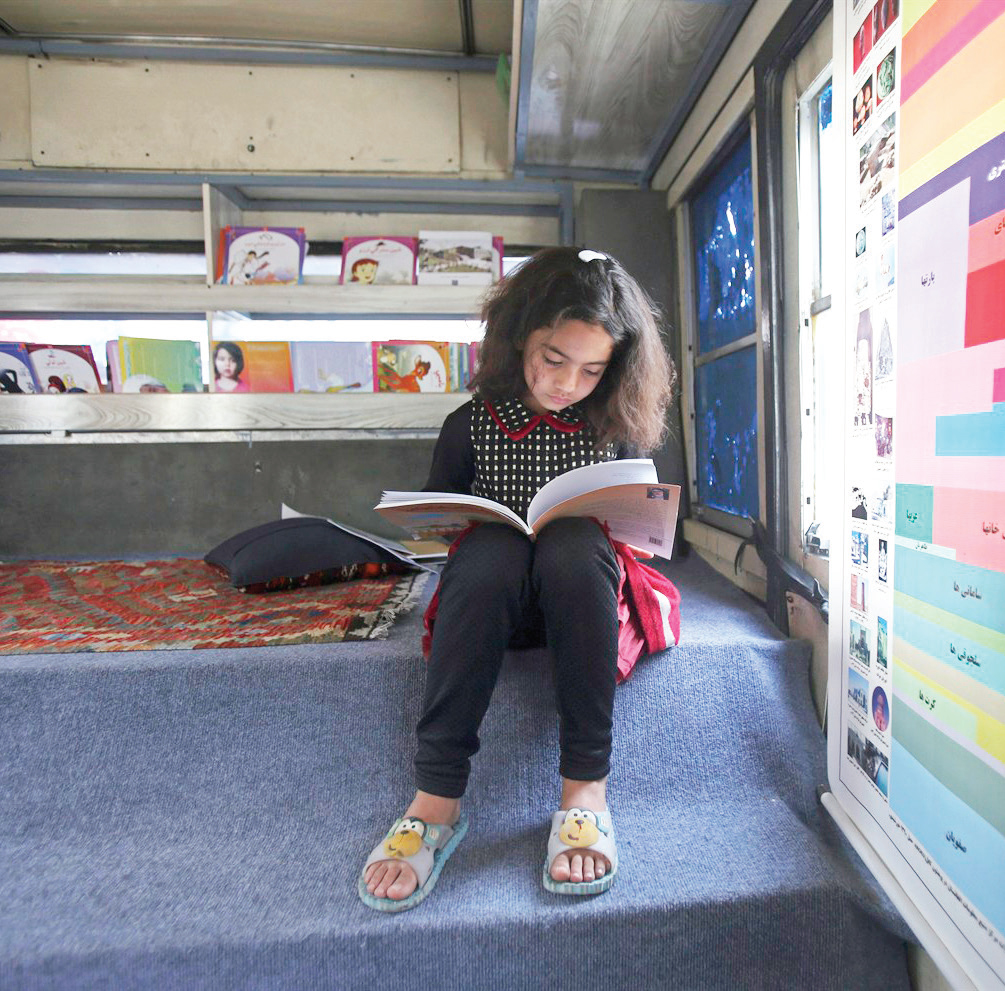 'I don't know how many of us can really forget the pain that the war has given us. Maybe children are too young to think about it, but I still feel that they realise it', she said. 'I hope a programme like this can give them an opportunity to forget those things.'
Down to Earth magazine now in Hindi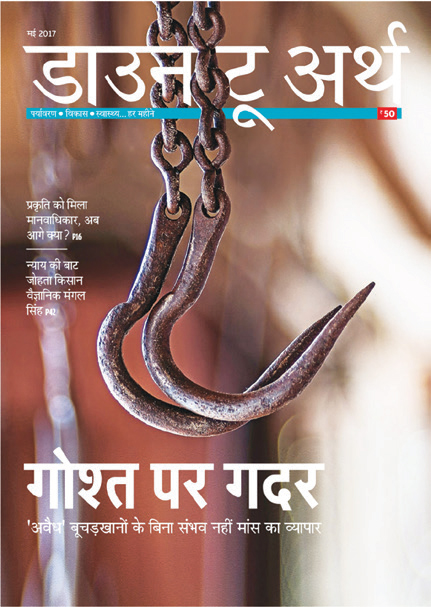 The Centre for Science and Environment's popular Down To Earth (DTE) magazine is now available in Hindi language also, at an attractive subscription rate. CSE says its wellwishers have been asking for a Hindi edition for quite some time and this will fill that information gap.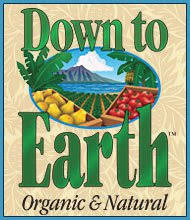 'The English magazine is already popular across the country and the Hindi magazine would be of immense use and interest to our supporters and wellwishers in the Hindi speaking States, as its coverage will be more on environmental issues closely related to their areas. Hence the Hindi edition of DTE will be different from our English magazine–it would not be a translation of the English edition. But coverage will also include major all India and global events to
An idea of graphic proportions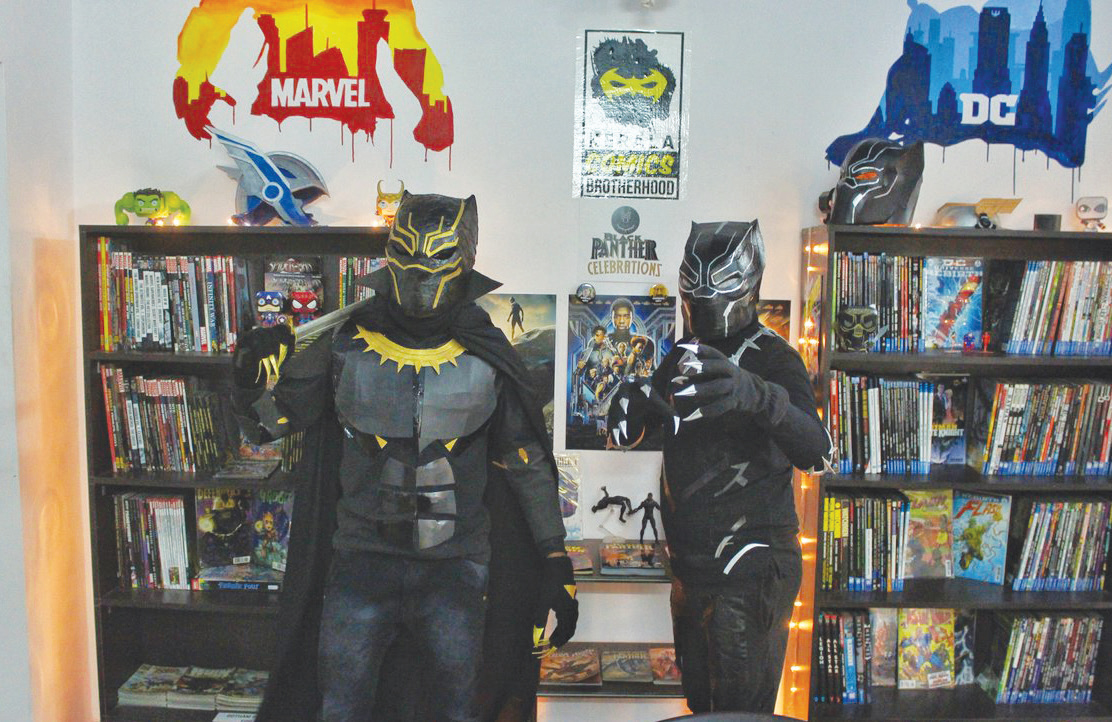 When the Justice League says you can't save the world alone, all is well. But what if it is they who need saving? Tony Davis and San Ramsankar from Kochi are working at forming a community of comic lovers who don't want their superheroes to disappear from print. The duo are steering a growing comic subculture in the city, creating opportunities for comic geeks to meet and interact. A few months back, they opened Comic Collective, a library dedicated to comics and graphic novels.
One of the few of its kind in the country, it has in its vintage collection issues that date back to the '70s. The vintage shares space with newer comics that span genres. Though the adult interest in superheroes today might largely be the contribution of films, there is a still a cross-section of people who love the feel of a book, the founders say.
The library was inspired by Leaping Windows in Mumbai, a café-cumcomic book library. When Ramsankar and Davis met last year and discovered the comic lover in each other, they decided to organise events around superheroes — which turned out to be more successful than they expected. They realised there were die-hard comic geeks and cosplay enthusiasts who didn't have a space to connect. 'The library was an extension of this brotherhood. After 2009, comics vanished from newsstands and it became almost impossible to buy physical copies. The library intends to make them accessible,' Davis says.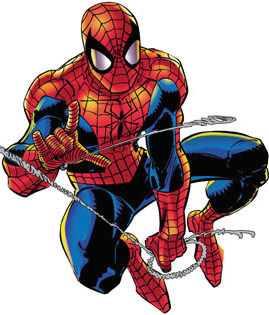 Comic Collective is for those who love books, but want to escape the clutches of wordy prose. 'That is the beauty of comics. They are artistic and literary at the same time, and that makes them unique,' Ramsankar says. The books were collected by the founders themselves, over their many trips to used bookstores and markets, street-side stalls and such, across the country. Some bits of their personal collections too have gone into the 1,400-books-strong library, which functions out of a rented house.
An imposing figure of Optimus Prime, the character from the Transformers film and cartoon franchise, made by Ramsankar, stands in a corner of the hall. The walls have superheroes leaping out of posters and an entire shelf is devoted to superhero figurines. The books are sorted publisher-wise. So there is a massive wall shelf each for DC Comics and Marvel. A smaller section for teenagers includes titles such as Bone, Scott Pilgrim and even Satyajit Ray's Feluda series. Membership is for ages nine and above, although a majority of the existing members are over 25.
Some more of Trump exploits in limelight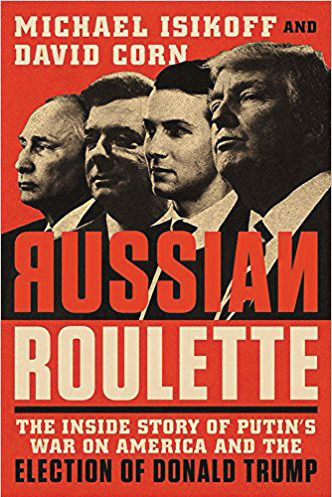 In the new book Russian Roulette: The Inside Story of Putin's War on America and the Election of Donald Trump, coauthors Michael Isikoff and David Corn, both of whom are veteran Washington based investigative reporters say, in the early morning hours of 15 June 2013, some five months before an alleged Moscow incident, Trump visited an infamous Las Vegas nightclub called the Act that was known for its sexually explicit theatre shows.
Ex-British spy Christopher Steele's notorious dossier too contains a report that Trump consorted with prostitutes in 2013 while staying in the Presidential suite at the Ritz Carlton Hotel, in Moscow. For the remaining tenure of the presidency Trump disclosures are likely to keep coming.
It was 2013 when Trump first tweeted that he wanted to be Putin's 'best friend'. Later he told Fox Putin looked 'like a great leader'. Putin's constant goals have been to destroy Nato and the EU. Trump was a big advocate of Brexit, which was a body blow to the EU, and in the 2016 campaign he called Nato 'obsolete'. Trump began visiting Moscow in 1987 and his on again, off again effort to build a Trump Tower there continued for three decades–right through the presidential election.
The Ruler's Gaze: An anomalous portrait of India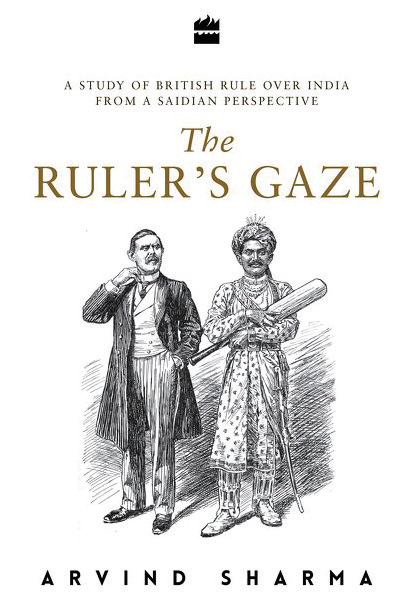 A professor of comparative religion at the McGill University in Montreal, Sharma unfolds the Saidian perspective to look at India through the eyes of its erstwhile rulers. This scholarly work is insightful, revealing, and disturbing, and leads to multiple interpretations once the reader accepts that the Saidian frame of mind continues to remain relevant even today.
In his new book, he points out that the claim that the Hindus are a separate nation, and so are the Muslims, and cannot live together in peace without the British was an Orientalist construct that was applied to tear apart the social fabric of the subcontinent.
Once their motivation had graduated from commerce to empire, colonial hegemony was asserted through the cultural supremacy of power and control. Indeed, it was much more sinister as moral superiority was proclaimed by reducing the subjugated to a 'decomposed society, with intellect no higher than a dog'. So profound was its cumulative impact on the masses that 5,000 officers with an army of 65,000 white soldiers were enough to control 300 million people spread across the undivided landscape. Arvind Sharma examines Edward Said's fundamental thesis - that power invariably drives the production of cultural knowledge – to unfold the ideological might which helped the British exercise full control over the people of India.