Great Indian Film and Literature Festival (GIFLIF)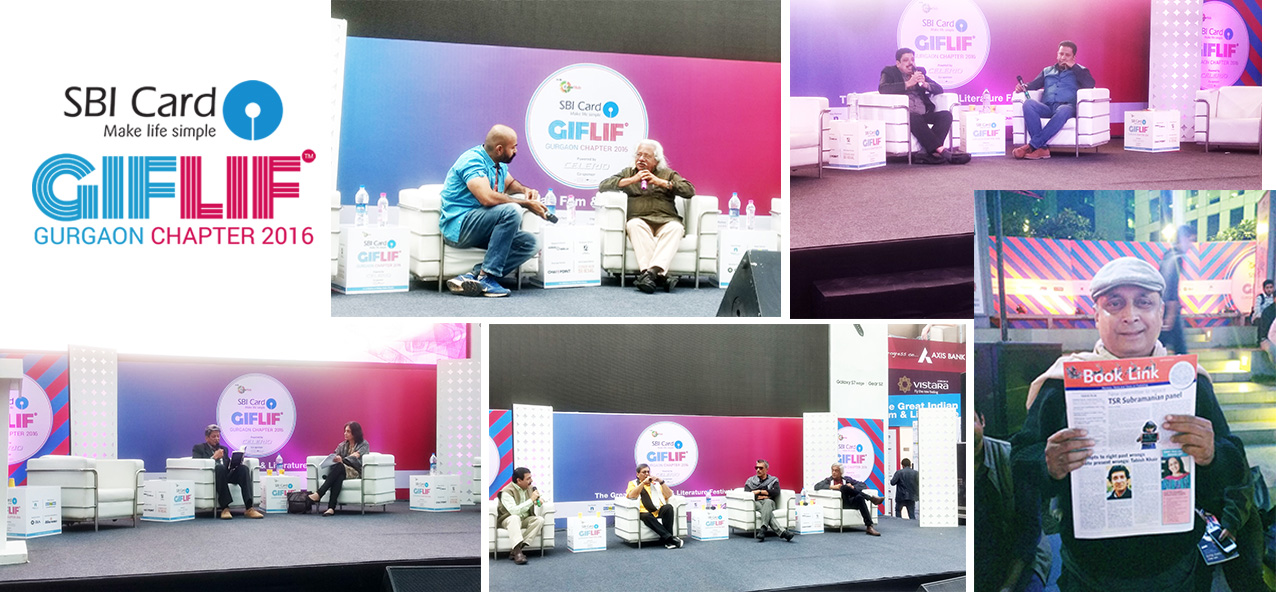 Literature at its best
During the course of the three days, there were some really insightful discussions on literature and its relevance to society. Spearheading these discussions were some of the very best in  the industry, including Ruskin Bond, Kiran Nagarkar and Anand Neelakantan.
Hailing from the land of mountains, Ruskin Bond took the audience on a nostalgic tour of the Himalayas from back when he was a child. 'Once you've met with the mountains, you cannot go back,' he said. He kept the crowd entertained with his witticism and charming sense of humour, and his was one of the most light-hearted sessions which everyone enjoyed thoroughly.
In another session, Kiran Nagarkar and Ritu Menon (curator) discussed at length Nagarkar's truck with how truth is often distorted to represent and re-tell historical events, with his brilliant book Cuckold at the centre of it all. 'It is patent nonsense that we, as a society and as people, belie all the ugly, unpleasant and sometimes brutal facts of our existence and live oblivious to truth. I try to bring this out in my book through my characters and undertones', Nagarkar said.
In Anand Neelakantan we had yet another Keralite, and yet another session filled with laughter, humour and wise-cracks. When he first came to Delhi as an aspiring student to prepare for his civil services examination, he could not have guessed that life had a different plan for him. 'Back then, I hardly knew Hindi, and even my English was not that good. But now I have written three best-sellers in English and four serials in Hindi,' Neelakantan says with a coy smile.
Anurag Batra chairman and editor in chief of Businessworld magazine inaugurated  GIFLIF. Sumita Mishra, Haryana's Principal Secretary,  talked about the cosmopolitan culture of Gurgaon and how such events help in making people aware about  their culture. Thanking  Batra for the festival intiative, she recited from Majrooh Sultanpuri,  Main to akela hi nikla tha janib-e-manzil, log milte gaye karvaan banta gaya. She also talked about the endeavours that the Haryana government were taking to organise multi-lingual Fests, like in Urdu, Punjabi, Sanskrit and Hindi.
Film-maker Subhash Ghai said, 'Cinema is not only about dance and drama, but it's a debate.' He talked about the corelation between cinema and literature and recalled his long association with Adoor Gopalakrishnan under whom he worked as an actor and his FTII days. Producer/ Director Prakash Jha and Gopalakrishnan were also present at the lamp lighting. Writer Ruskin  Bond had the last word and recalled his  boyhood days when the projector made more noise than the sound track.
Hindi lyrics, badalte bol  
Famous lyricist and Music Director Piyush Mishra  and lyricist Rajashekhar of Tanu Weds Manu fame had a scintillating discussion on Hindi Lyrics, Badalte Bol at the GIFLIF. Responding to a question, Piyush Mishra  said  script of a movie holds more  significance than music or lyrics. He also said, 'no lyrisist is an inborn classical singer.' Rajashekhar said,  'music and lyrics are inseparable.' Piyush Mishra further added, 'I cannot be governed by Directors and Producers as I don't work for them , I work for myself.' He also recalled his tiff with Rajkumar Santhoshi as he had not been given credit for the lyrics of  The Legend of Bhagat Singh.
Rajashekhar said  that Tanu Weds Manu Director spoiled him by giving him full liberty in writing. This is the reason why  he has only 16-17 songs penned by him. He further added he derived a new term 'Silent Hit' for the songs which do not get any award . Mishra said, 'Lyricists and scriptwriters are not paid well because we do not resist.'
While responding to the questions from  audience Rajashekhar said that it was very difficult for him to write lyrics for Tanu  Weds Manu returns song Ghani Bawri as he did not know  Haryanvi accent and had to make friendship with all his Haryanvi/ Jatt friends with whom he fought during his college days. Both the lyricists were of the view that technology, specifically social media, can be used for improvising lyrics. Piyush Mishra said Anurag Kashyap popularised many of his bad lyrics.
Rendezvous with the legend
Right after the inauguration, moderator Amrit Gangar introduced Padma Vibhushan Adoor Gopalakrishnan with the most fitting of words, 'The simplicity of being great, and the greatness of being simple,' … encompassing all which Gopalakrishnan stands for.
Their conversation started with Gopalakrishnan talking about his early childhood and how distant it was from the world of film-making, and yet how important those formative years were. 'My first job after graduation entailed me to travel all over Kerala and gather data on people as part of a National Sample Survey. In hindsight, that was a very interesting exercise because I learned a lot about people—their behaviour, their habits and how they live.'
Wanting to get into specialised theatre but not finding any avenues in Kerala, studying at the National School of Drama was his only option back then, but since the medium of study was Hindi he couldn't go. Almost as a godsend, FTII opened in 1960, and seeing an opportunity there he went to Pune, gave the admission test and got himself admitted to the college. Rest, as they say, was history.
'I learned a lot from my professors in college. Mine was the second batch, and I think early batches had it good since we were all in it for the love of film-making, learning new things and trying to create something beautiful.'
Scripting success from news
Subhash Ghai, Prakash Jha and Sudhir Mishra came on a common platform on the second day of GIFLIF to talk about the inception of good scripts and stories which make a movie successful. The panel discussion was moderated by Deepak Mahan.
Subash Ghai gave an instance of a personal account, the experiences of which led him to write the story for his movie Pardes. 'I once visited a friend living in the US, and there I saw how far drawn his children were from India and its culture. Seeing that, it struck me that I should make a movie about it and that's how I started writing for Pardes.'
Talking about how his movies trigger the social and political consciousness of the people, Mahan asked Prakash Jha what his inspirations are for writing a movie. 'I see several things around me which registers in my mind—things like child education, recent demonetisation, the changing political atmosphere in our country, or even things like Brexit, or France's ban on Hijab, or even the US Presidential elections where right wing fascism is a reality now. I interpret these events as I see them, and I start visualising ideas and characters, and gradually a story emerges out of it all.'
Opposite to the social problems which Jha portrays, Mahan pointed out that Sudhir Mishra's movies, like Chameli are more on a personal level and invites the audience for a deeper introspection of their own life. 'A good cinema is one that combines what you've heard and seen with what has happened to you. Every artiste approaches things in a different way, and I feel I make movies to myself understand the things happening with me and around me.' Mishra said.