Making children's literature relevant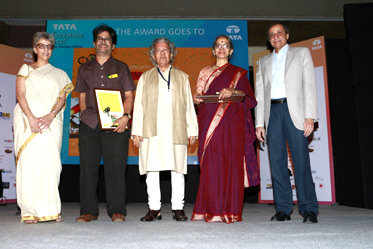 Parag, a Tata Trusts initiative announced the winners of the 'Big Little Book Award' with Madhuri Purandare and Atanu Roy winning Best Author in Marathi language and Best Illustrator across languages respectively in the Children's Literature Category at the 2016 Tata Literature Live!, Mumbai. The awards were presented by Anil Dharker, Founder and Festival Director; Burzis Taraporewala, CFO, Tata Trusts and Tara Sabavala, Associate Director, Tata Trusts.
Children's literature is a very underserved genre in the Indian publishing market, and with 'Big Little Book Award' the aim is to promote and invite more writers and illustrators to come up with good children's literature. Lack of opportunity and recognition are the two main reasons why publishers and authors are wary of solely being in the children's literature market, as a result of which children themselves have a very limited option and access to original Indian writing in English and other languages.
'Education is one of the key focus areas for us at Tata Trusts. The programmes in this portfolio strive to enhance the quality and equity of education. The Big Little Book Award is our way to recognise talent and encourage more authors and illustrators to engage with children's literature,' Sabvala said during the award ceremony.
BLD