Jaipur Book Mark 2018
The 2nd edition of the First Book Club New Writers Mentorship Programme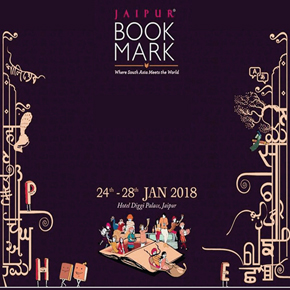 Jaipur Book Mark, the ZEE Jaipur Literature Festival's B2B arm Jaipur BookMark (JBM) has announced the second edition of the extremely successful 'The First Book Club New Writers Mentorship Programme' in partnership with Scroll.in.
JBM has announced that Naye Shekhar Ki Jeewni by Avinash Mishra, was one of the shortlisted entries of 'The First Book Club New Writers Mentorship Programme' in 2017. This title will be published by Vani Prakashan in January 2018. The 2017 edition saw a range of participants, from Kashmir to Kanyakumari, belonging to diverse social and linguistic backgrounds. Festival director and author Namita Gokhale says, 'We were deeply impressed by the vibrant writing and creative energy displayed in the entries received for the First Book Club last year. We look forward to listening in to more fresh and talented voices at JBM 2018'.
This year, 20-25 shortlisted participants have been invited to attend Jaipur BookMark on 28th January 2018, and are being given individual feedback by an expert panel of publishers, literary agents, writers and translators, and perhaps get a chance to even sign a book deal. The panel includes Vikas Gupta, Zac O'Yeah, Mita Kapur, Jayapriya Vasudevan, Preeti Gill, Kelly Falconer, Anuj Bahri, Urvashi Butalia, Aditi Maheshwari-Goyal, Esha Chatterjee and Manasi Subramaniam.
Jaipur BookMark opens with a full day of programming on 24 January 2018 and for the next 4 days runs parallel to the main Festival at a dedicated venue in the Diggi Palace Hotel.