Govt cracks down on CBSE affiliated school tuck shops
Schools can only sell NCERT books, stationary only at MRP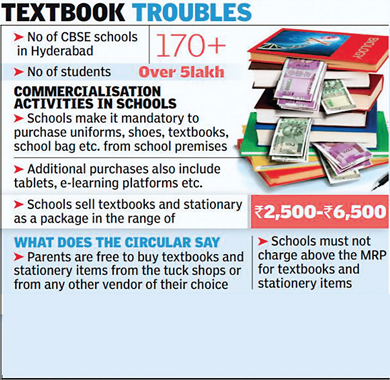 Children's books publishers, line up with your books outside the school gates. CBSE has not said, schools cannot prescribe other books, only they cannot sell within campus.
Stationery, tuck shops or book clubs within the school premises have now been barred from selling private publishers' books. The Central Board of Secondary Education has further ordered them to sell (within school premises) all stationery items such as pen, pencil, notebook etc. at Maximum Retail Price (MRPs) and not more than that.
A new circular has been sent to all the CBSE affiliated schools across the nation with yet another warning that selling books other than the National Council of Educational Research and Training (NCERT) books within their premises will be considered a violation of the circular and 'will attract strict action against the school'.
After two years of tussle with schools, in September 2017, the CBSE finally relented and allowed affiliated schools to resort to restricted commerce and sell NCERT books, stationery and other study materials through shops in campuses. It amended all its previous circulars to allow tuck shops to be opened inside school premises.
'Schools are allowed to place indent for purchase of NCERT books directly through its website for distribution among their students and for this purpose, a tuck shop may be opened inside the premises of the schools', the CBSE said in the September circular.
On 28 December, a PTI report said Minister of State for Human Resource Development, Upendra Kushwaha had told the Rajya Sabha in a written answer to a question raised in Parliament that, 'the CBSE has not mandated schools to prescribe only NCERT text books'.
'The Central Board of Secondary Education has not issued any advisory/directive to schools affiliated to it to compulsorily prescribe textbook published by NCERT', said the written response. He also told the House that NCERT has conducted 'a review of all its textbooks and rectified factual errors', if any, besides updating data.
However, some more confusion was added to the jubilation of private publishers with yet another CBSE warning to shops in school premises to limit sale to NCERT books only.
What did this mean now? No private publisher books in school shops. MRP for all sales within premises. Fair enough. A member of CBSE Chairman's Office, Delhi has further clarified, 'We aim to maintain a uniformity of curriculum across the country. Since our curriculum is based on NCERT textbooks… therefore… in order to form a common ground for education in every State of India, we came upon this decision'.
He points out that, time and again the concerned CBSE authorities are coming up with 'orders' to promote NCERT textbooks amongst schools and these 'circulars (in other words orders)' have shot NCERT sale up by 20 per cent. Earlier, the board had also said that as per rule 19.1 (ii) of the CBSE Affiliation By-Laws, institutions such as societies, trusts and companies registered under Section 25 of the Companies Act-1956 should ensure that schools are run as a 'community service', and not as a business venture. This means that the educational institutions concerned shouldn't indulge in any kind of commercial activity.
So what are we to make out from what the minister said in Parliament? Enigmatically, yet another official in CBSE clarifies, 'Though we have restricted schools from selling books by private publishers, we have not barred students from referring to their reference or help books'.
So, children's books publishers, Get your online order sites buzzing, or tie up with Amazon for smarter listing. Classwise.