Australia stalls book on Chinese influence in its affairs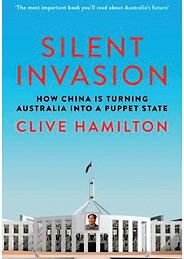 One of Australia's largest independent publishers said it has decided to delay the publication of a book which alleges widespread Chinese government influence in Australian institutions due to legal concerns.
Sydney-based Allen & Unwin has said in a statement that it decided to delay publication of the book, Silent Invasion, following 'extensive legal advice'. It said the book's author, Clive Hamilton, was unwilling to delay publication and requested the return of the book's rights.
Hamilton said the publisher said that the reason for the delay was due to concerns over possible legal action from Beijing. Hamilton said his book was the 'first comprehensive national study of Beijing's program of exerting influence on another nation'.The book documented the influence and penetration of the Chinese Communist Party in Australian political parties, universities and cultural organizations, as well as the Chinese diaspora in Australia.
The delay of the book comes after two international publishing houses - Springer Nature, which publishes science magazines Nature and Scientific American, and Cambridge University Press - were criticized recently for restricting access to articles on sensitive subjects in China.
Concern in Australia that Beijing may be extending its influence in the country has become a topic of political debate and media coverage over the past year. In June, Australian Broadcasting Corporation and Fairfax Media publisher of the Sydney Morning Herald and The Age newspapers, published reports saying that there was a concerted campaign by China and its proxies to 'infiltrate' the Australian political process and institutions to promote