Want to transcribe rare manuscripts in your lunch break?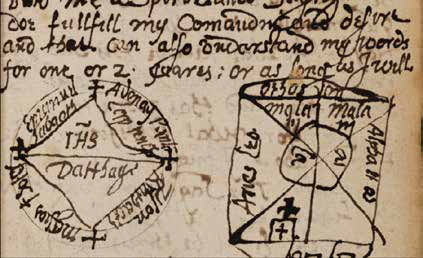 A detail from The Book of Magical Charms, one of the manuscripts the Newberry
Library is seeking to transcribe. COURTESY OF THE NEWBERRY LIBRARY
Joseph Peterson is a software engineer by day and rare manuscript enthusiast by night. Peterson is the founder of Esoteric Archives, a website he built 20 years ago that publishes transcripts, translations and other information about rare historical texts. He's also one of the virtual volunteers helping Chicago's Newberry Library transcribe and translate a series of rare religious manuscripts written between the 15th and 19th centuries.
In the lead up to an exhibition in September, the Newberry is crowdsourcing transcripts of texts with Latin and English, which were made available after the site launched in May, according to Jen Wolfe, the library's Digital Initiatives Manager. Much like updating a Wikipedia page, anyone can start transcribing and translating, and they don't need to sign up to do so.
The manuscripts hold odd insights and secrets. The Book of Magical Charms, for example, outlines occult arts that describe caring for toothaches, cheating at dice and speaking with spirits.