ISBN nightmare hits textbook publishers IGNOU, TERI among the desperate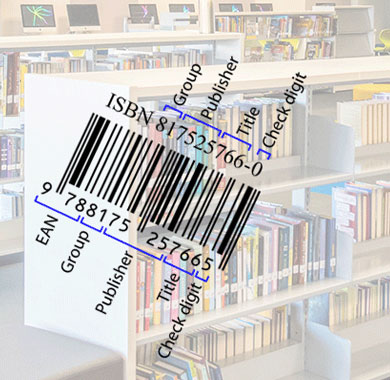 It's not just assorted publishers who are facing problems getting ISBNs, the  bar code for a book, from the HRD Ministry.  IGNOU, one of the largest government universities which publishes its own course material, is also facing hurdles with its ISBN allotment. This at a time when the government is tom tomming the need for change in the way learning is offered in India. 
As per its requirement, the Indira Gandhi National Open University keeps applying for ISBNs but for some months now they have been unable to do so. 'Because of some error in the application, our ISBN request was put on hold. It's been more than a month now and I have come to their office umpteen number of times, but to no avail. If we do not get issued the ISBNs on time, the students would be deprived of their course material. How will they study for their exams then? And students are in every right to go to court if we fail to give them their course material on time,' says BL Rewadia, Section Officer (Publishing), IGNOU. [IGNOU serves 4 million students in India and 40 other countries.]
When the Ministry of HRD decided to make the process of registering and allotment of International Standard Book Number (ISBN) online in April, Smriti Irani, the then Minister of HRD, said during the launch that the 'ISBN portal has been created in a short period of time'. In hindsight, maybe it wasn't such a good idea to do it in such a 'short period of time'. Not unlike what we have witnessed with the recent demonetisation, the intentions were good but lacked  proper implementation, execution and technical expertise.
The government simply does not have the technically equipped manpower to handle this complex online operation. Even  6 months after  launch, the MHRD has failed to streamline the portal to make accessibility easier and convenient for publishers and authors. 'There are a lot of criteria you need to meet with for your application to be accepted online, and I find that during bulk uploading you inevitably make one or two errors. After that it takes a long time for you to rectify it since you cannot directly contact anyone for help and those in charge at the ISBN office are too rude and not forthcoming with helping us out,' says Pavan Kumar, Editorial Executive at Manohar Publications.
Wednesday is the Disaster Day. The MHRD has allotted this day for grievance redressal. Every official chooses to be non-committal. Anxious publishers converge every D-day at the Raja Rammohun Roy National Agency, where the head office for ISBN is; the restive crowd is faced with a wall of indifference. 'There are so many publishers with complaints. It feels like you are standing in a bank queue. And to make matters worse, those at the ISBN office are not available at all times, further compounding our problems,' says Debashish Nandi, from Niyogi Books. 'They need to make the process more systematic. Their requirements are very ambiguous, and every time they point out one or the other shortcoming within our application and ask us to apply again and again, without clarifying all the points/requirements together.'
Among the requirements are PAN cards and book jackets. Writing is often an idea. A first time author may be a housewife in a remote village without either. ISBN is needed before publishing, the book may not yet have a jacket nor is it necessarily of that genre that generates any taxable income. If one can show five jackets, a publisher is entitled to just five numbers at the time. Which entails a fresh application every month for new titles, which is not only time consuming but  can be  a government-made nightmare for the growth of the Indian publishing industry, especially for educational publishers.  
'The process of applying for ISBNs is not very user friendly, and the people responsible for it are even less so,' says Sanjeev Sharma, Senior Marketing Executive at TERI. 'Our request for ISBN is pending for 3 months now. There is no point of contact for registering complaints, they don't have any phone numbers, and they don't respond to the emails we send. We even sent one of our people to their office but still have been unable to make any progress,' he further added.
Hoping to solve the problem at hand, SC Sethi, President of FPBAI, along with a delegation, has met with senior members in the MHRD and even Minister  Prakash Javadekar. 'We have observed through personal visits that the ISBN office catering to the needs of such a large number of publishers' community across the country do not have the adequate staff, space and infrastructure to dispose of the work efficiently and timely,' said Sethi. However, even after several meetings wherein they gave their suggestions and requested for prompt action, the problem of ISBN issuance persists. Amidst all this, Nandi asks a very pertinent question at the end, 'If we don't get ISBN issued, how are we supposed to publish books?'
Mathew M Philip