Of Cricket, Controversies and the Custodian
It is always interesting to talk books. And it has to be news in quote unquote when India's top cricket historian says that one of India's top cricketers and cricket administrator has succumbed to 'conflict of interest'. This was Ramchandra Guha discussing his latest book, 'The commonwealth of cricket: The most subtle and sophisticated game known to mankind', with senior actor Naseeruddin Shah on a cultural platform Manthan on 22 November morning. The historian and the thespian are both cricktophiles, teenage players and television experts on cricket.
Shah, saying his desire to 'clean up' the film industry was a far-fetched possibility, wanted to know what of Guha's bid to clean up BCCI? Ramachandra Guha was one of the four members of the Committee of Administrators appointed by the Supreme Court to run the BCCI, in January 2017 but quit his post in June same year. In 2018, Guha said, 'BCCI officials worshipped Kohli more than Indian cabinet worships Narendra Modi' and in 2019, he rejected compensation for his CoA role in BCCI.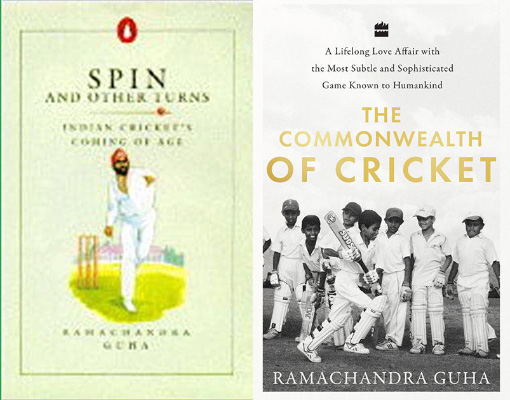 Guha said on a live platform Sunday morning that Saurav Ganguli, the BCCI chief, was suffering from 'conflict of interest' and had given in to the system. No eyebrows were lifted at the comment. And since Mr Guha thrives on controversy, the same Sunday morning, in an opinion piece for scroll.in Guha wrote about all the 'offers' he had received since he wrote Verrier Elwin's and the Gandhi biographies and refused to collaborate in writing biographies of — Atal Behari Vajpeyee to Adani in 2013, this because he knew that Gautam Adani was 'close to Narendra Modi'. In the same article Guha also discloses that after he wrote a book on cricket in 2002, 'two cricketers' — one of them retired, asked him to collaborate on a biography of the retired cricketer. Guha writes: I had no desire to help in massaging a retired cricketer's ego.
Both Guha and Shah agreed that Bishen Singh Bedi was the only upright cricketer still standing.
Though Shah called the last two chapters of Guha's new book 'depressing', what was interesting was a discussion on two yesteryear tribal players, Dalit social reformer and spinner Palwankar Baloo and his brother Vithal Palwankar, described as the first Dalit captain of the Hindus cricket team in the Bombay Quadrangular cricket competition. However, no one asked the custodian of cricket lore, how many Dalit players have found place in 70 years of India's now-billion-dollar cricket. And that is not quite cricket.
—Papri Sri Raman