Gita: The Battle of the Worlds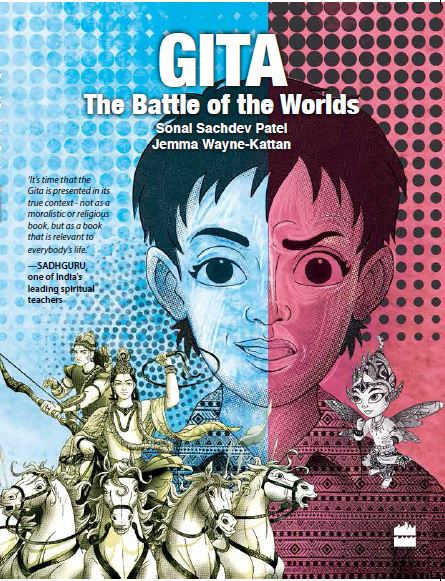 Format: Paperback
Extent: 104
PRICE: Rs.250
When 11-year-old Dev's father dies, he can't stop lashing out at those he loves. Until he meets Sanjay – a sprite-like being who claims there is a battle raging inside Dev's own body. Sanjay embarks on a perilous journey beginning in the darkest realm at the bottom of Dev's spine. As he searches for the noble warrior Prince Arjun—the only hope to defeat wicked Prince Ego—Sanjay encounters starving mobs, thieving gangs, water worlds and lands of fire, until at last he finds Arjun on the battlefield, ready to fight for Dev.
This book attempts to take the messages of the Gita and make them more accessible to children and to also present the Gita as a universal message applicable and relevant to all. And it is the first time that the concept has been transported into a truly modern and engaging story.
Author Bio:
Sonal Patel is a British–Indian mother with strong cultural roots. She has been a disciple of Paramahansa Yogananda for over twenty years, practising yoga and meditation every day.
J.W. Kattan graduated from Cambridge University and went on to obtain her PGDIP in broadcast journalism from the University of Westminster before becoming a journalist and writer. Jemma lives in north London.