Hillary Clinton on India book tour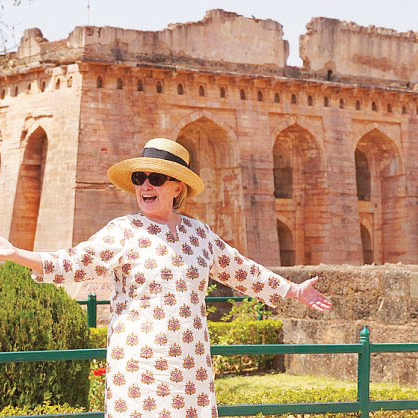 Clinton drew criticism when she said in a speech in New Delhi, that President Donald Trump has 'quite an affinity for dictators' and that he 'really likes their authoritarian posturing and behavior.' Clinton went on to say Democrats 'do not do well with white men, and we don't do well with married, white women. And part of that is an identification with the Republican Party and a sort of ongoing pressure to vote the way that your husband, your boss, your son, whoever, believes you should.'
Former US Secretary of State Hillary Clinton was in India promoting her book and was descending the stairs of the Jahaz Maha palace in Mandu when she slipped and injured herself. Luckily someone was guiding the former presidential nominee and caught her arm before tragedy struck. A few seconds later, Clinton slipped again before kicking off her pair of sandals and cautiously walking down the final steps of the old palace site in Madhya Pradesh, which was in her itinerary. Clinton was in India for a week long tour.
Clinton also interacted with children of a local school in Maheshwar in Khargone district of the state.
She also paid a visit where the famous Maheshwari sarees are woven and took a boat ride on the banks of Narmada River. Clinton landed at Devi Ahilya Bai Holkar Airport in Indore on 11 March , a day after attending a media conclave in Mumbai on the 10th. Clinton arrived in Rajasthan's Jodhpur city on the 13th of March, the last day of her fourday visit to India.
She, however. picked injuries in her hand during her visit to Jodhpur and had to cancel some of her programmes as a result, officials said. She fractured her wrist after she slipped in a bathtub at Umaid Bhawan Palace in Jodhpur. An Xray and a CT scan conducted at Goyal Hospital confirmed the injury, provided medicare and declared her fit to travel back to the USA.
In 2016 US presidential elections, Clinton, who was the Democratic presidential nominee, was defeated by Republican rival and current US President Donald Trump and wrote an explosive book on what happened. Hillary Clinton will deliver the concluding lecture at the 2018 PEN World Voices Festival, capping off a week of events dedicated to the theme 'Resist and Reimagine', PEN America has announced. It is to feature more than 165 writers of over 50 nationalities.
Hillary Clinton will deliver the Arthur Miller Freedom to Write Lecture at the Great Hall at Cooper Union in Manhattan. on 22 April.
According to a press release, the lecture 'will draw on her experience as the nation's top diplomat and her career in politics to underline the centrality of free speech—broadly defined and vociferously defended— in sustaining healthy democracies and vibrant societies.
' Clinton will be joined on stage by the Nigerianborn novelist Chimamanda Ngozi Adichie (who delivered the lecture in 2015) after the lecture for a dialogue about the future of women and girls around the world.
In addition to Adichie, past Freedom to Write lecturers have seen great personalitites such as Orhan Pamuk, Salman Rushdie, Wole Soyinka, Justice Sonia Sotomayor and Masha Gessen.
The Radcliffe Institute at Harvard University has announced that Hillary Clinton will receive the institute's Radcliffe Medal. Clinton will receive the award 25 May during Harvard's commencement week, the Radcliffe Institute said in a statement. The institute awards medals to people who have had a 'transformative impact' on society.