No teacher, no digital expert in new NEP panel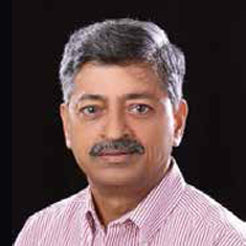 Sesh Seshadri
Publishing Consultant
What do we mean when we say 'scientific temper'? We mean an approach to life which uses methods common to science, including questioning, observation of physical reality, testing, analysis and communication. It is an approach that involves the application of logic, argument and analysis to discussion. Jawaharlal Nehru was the first in India to use the phrase, in 1946. This is relevant in today's context with the appointment of former ISRO Chief K Kasturirangan to head the ninemember panel of the National Educational Policy (NEP).
For those involved in teaching and educational publishing in India, this is great news, for it means that a nationally awarded scientist will be working towards making the Indian education system contemporary, and of higher quality.
I am confident that the panel will consult all the major stakeholders in the process of framing the policy. As this committee supersedes the TSR Subramanian panel, it is hoped that the copious data collected by Subramanian's team (which carried out a nationwide consultation under the then HRD minister, including conducting statelevel workshops) will be taken into consideration, and utilised appropriately.
But it is difficult to overlook the various inconsistencies in the government's policy framework. Let us review the profiles of the members of this new panel. While the age cutoff the Hon'ble Prime Minister informally applied while forming his cabinet was seventy years, we now have someone who is seventy-six years old as head of the panel! I am no ageist, merely pointing out a discrepancy. Further, there is not one single, practicing teacher on the panel. More surprising still is the non-inclusion of young persons with a digital/ technology background. India has become the world's thirdlargest startup ecosystem. A Nasscom report estimates that India may have 11,500 startups by 2020. The Hon'ble HRD Minister recently stated that the government is considering thinner books and introduction of tablets in classrooms. We talk about Digital India every day. None of this is reflected in the appointment of members to the NEP panel.
My appeal to the panel is to include practicing teachers, with their invaluable classroom experience, and young technology professionals who are familiar with technology in education/education technology.
"We should aim to get part of the gross NPAs of public sector banks estimated to be at Rs 6.06 lakh crore into education."
With the Goods and Services Tax (GST) rolled out, the government should focus on resolving the bank nonperforming asset (NPA) crisis.
I will conclude by quoting a text from the Ministry of Human Resources Development website: The essence and role of education articulated in the National Policy on Education (NPE), 1986/92, continues to be relevant even 25 years after its formulation (Ref: MHRD – Department of School Education & Literacy).
If that is indeed the case, what role does the government foresee for the newly constituted panel?
How Education Has Grown
| | | | | | | |
| --- | --- | --- | --- | --- | --- | --- |
| Level/Year(in Hundreds) | Primary | Upper Primary | SECONDARY | SENIOR SECONDARY | COLLEGE | UNIVERSITY |
| 1950-51 | 2097 | 136 | NA | 74 | 578 | 27 |
| 2000-01 | 6387 | 2063 | 877 | 384 | 10152 | 254 |
| 2014-15 | 8471 | 4251 | 1353 | 1093 | 38498 | 760 |
Source MHRD - Table-19: Number of Recognized Educational Institutions