The Voice of Silent Valley Falls Silent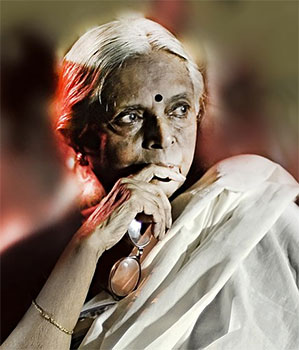 I have never come running with my friends

To be with you.
Krishna, You Know Me Not.

I listened as their anklets' sounds faded afar-
Then with eyes cast down, always returned
To my work, chaining my life down within;
With a thousand little chores.
Krishna, You Know Me Not.

When I think of you, my throat clears again.
My life is not in vain, my friend, when I sing for you.
My song is not in vain, my friend, when you hum along with it.
Poet Sugathakumari died on 23 December 2020 – of Covid-related complications. She was the voice of the Silent Valley. A conservationist and a very respected Malyalam poet, she was 87. She was popularly known as Teacher.
'The Tree Poets'
The need to save Silent Valley, India's richest biodiversity park, in the Palakkad region of Kerala, was first brought to public attention in a 1969 report published in the Mathrubhumi weekly. The report was written by MK Prasad and commissioned by NV Krishna Warrier, a poet, prolific writer, and the then editor-in-chief of Mathrubhumi. Well-known literary figures like poet Vishnu Narayanan Namboodiri and KV Surendranath were all part of the Save Silent Valley movement. Sugathakumari founded the Paristhithi Samrakshana Samiti (Environment Protection Committee) for the Silent Valley agitation with fellow litterateurs. Warrier was the committee's first President and Namboodiri served as Sugathakumari's second-in-command.
A committed conservationist, Sugathakumari served as the secretary of the Society for Conservation of Nature, Thiruvananthapuram. In the late 1970s she led a successful nationwide movement to save some of the oldest natural forests in the country, the Silent Valley in Kerala, from submersion as a result of a planned hydroelectric project. Her poem Marathinu Stuthi (Ode to a Tree) became a symbol for the protest from the intellectual community and was the opening song of most of the Save Silent Valley campaign meetings.
She was also actively involved with various women's movements of the 1970s and served as the chair of the Kerala State Women's Commission. Sugathakumari also founded Abhaya (refuge), an organisation that provides shelter to female mental patients, after being appalled at conditions in the government-run mental hospital in Thiruvananthapuram.
Sugatakumari's work includes Muthuchippikal, Pathirapookkal, Krishna Kavithakal, Ratrimazha, and Manalezhuthu. Her awards include the Kerala Sahitya Akademi Award (1968), Kendra Sahitya Akademi Award (1978), Odakkuzhal Award (1982), Vayalar Award (1984), Asan Prize (1991), Vallathol Award (2003), Kerala Sahitya Akademi Fellowship (2004), Ezhuthachan Puraskaram (2009), Saraswati Samman (2012), Mathrubhumi Literary Award (2014) and O N V Literary Award (2017). Sugathakumari received the Prem Bhatia Award for Social Science, the Sacred Soul International Award, the Lakshmi Award for social service, and the first Indira Priyadarshini Vriksha Mitra Award from the Government of India in 1986 for her efforts in environmental conservation and afforestation. In 2006, she was honoured with Padma Shri, the country's fourth-highest civilian honour. – BLT