Lots of Learning & a Little bit of Loneliness
Pandemic is perhaps the most used word in 2020, from most dictionary year-end surveys, if it is not Corona or Covid. And doctors are good writers. Susruta means renowned and the Susruta Samhitas are said to be written over a period of a thousand years – from 600BC to 600 CE, by a number of physician teachers who improved on the writings of the first one through ages and wrote about ancient India's surgical practices and herbal remedies, the first being from Kasi-Varanasi.
Modern times have their share.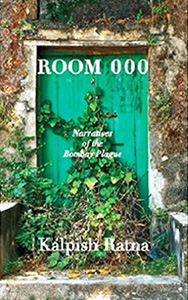 Right from Arthur Conan Doyle to William Somerset Maugham there have been many physician writers, among them poet John Keats and Anton Chekov. Robin Cook, Michael Crichton, Khaled Hosseini, Atul Gawande, Paul Kalanithi, Siddhartha Mukherjee to name a few who are famous today. None of them wrote about any pandemic though. The most definitive book published in India in this decade is on the plague; it is ROOM 000: Narratives of the Bombay Plague by two surgeon-storytellers Kalpana Swaminathan and Ishrat Syed who adopted a pen name for this work. It was published by Pan Macmillan India.
From India, Pandemic books have been rare. Amitav Ghosh's 1995 fiction work, The Calcutta Chromosome, supposed to be loosely based on Sir Ronald Ross's malaria studies in India does not remotely come near to Room 000 which reads like a detective story. However, 2020 has seen a flurry of books on the Corona virus, the Covid pandemic raging through the world.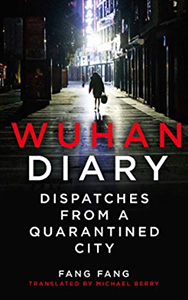 Living through a pandemic, one is always curious about how pandemics are studied and written about. In India the pandemic alert came in March. Immediately, one was too overwhelmed by the official and unofficial reactions, the subsequent responses, vision of millions walking home, the clanging of bells and chanting mantras and the fallouts and blame games. Amidst all this in May came the Wuhan Diary: Dispatches from a Quarantined City by well-known Chinese literary writer Fang Fang. It was translated into English by Michael Berry, a Professor of Contemporary Chinese Cultural Studies and Director of the Center for Chinese Studies at UCLA. HarperCollins, the publisher said, it will be translated in 15 languages. Prof Berry is a cultural reviewer, film critic and also himself an author of books like A History of Pain and Remains of Life.
One of contemporary China's most celebrated writers, Fang Fang is not not a doctor. She was born in Nanjing in 1955, and spent most of her childhood in Wuhan, where she lived through Mao's China, and witnessed political revisions like the Great Leap Forward and the Cultural Revolution. With a degree in Chinese literature from Wuhan University, her novels, novellas, short stories, and essays have appeared in nearly 100 different publications and she is the recipient of numerous honours, including the Lu Xun Literary Prize, and the Chinese Literature and Communications Prize for Outstanding Writer.
Fang Fang's beloved Wuhan was lockeddown in January 2020, and even before the world started blaming Wuhan for the Covid-19 infection, Fang Fang began publishing an online diary. In the days and weeks that followed, Fang Fang's nightly postings gave voice to the fears, frustrations, anger, and hope of millions of her fellow citizens, reflecting on the psychological impact of forced isolation, the role of the internet as both community lifeline and source of misinformation, and most tragically, the lives of neighbours and friends taken by the deadly virus. Fang Fang says in her introduction: 'The virus is the common enemy of humankind; that is a lesson for all humanity. The only way we can conquer this virus and free ourselves from its grip is for all members of humankind to work together.'
Blending the intimate and the epic, the profound and the quotidian, Wuhan Diary is a remarkable record of an extraordinary time, says the publishers. Fang writes in the introduction: 'This is a book dedicated to the people of Wuhan. It is also a book for those people who came to Wuhan's aid during this city's darkest hour. All of my proceeds from this book will be used to aid those people who put their lives on the line for this city.' By claiming the writer´s duty to record, she also speaks out against social injustice, abuse of power, and other problems that impeded the response to the epidemic and gets herself embroiled in online controversies because of it.
Nevertheless, this fascinating eyewitness account of events as they unfolded, Wuhan Diary captures the challenges of daily life and the changing moods and emotions of being quarantined without reliable information. Fang Fang finds solace in small domestic comforts, and is inspired by the courage of friends, health professionals, and volunteers, as well as the resilience and perseverance of Wuhan's nine million residents.
As Fang Fang documents the beginning of the global health crisis in real time, 'we are able to identify patterns and mistakes that many of the countries dealing with the novel coronavirus pandemic have later repeated. She reminds us that, in the face of the new virus, the plight of the citizens of Wuhan is also that of citizens everywhere', says the publisher.
Pandemic is perhaps the most used word in 2020, from most dictionary year-end surveys, if it is not Corona or Covid. And doctors are good writers. Susruta means renowned and the Susruta Samhitas are said to be written over a period of a thousand years – from 600BC to 600 CE, by a number of physician teachers who improved on the writings of the first one through ages and wrote about ancient India's surgical practices and herbal remedies, the first being from Kasi-Varanasi.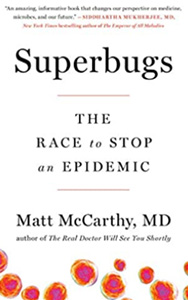 The next important book available in India this year is a book on invasive viruses and bacteria called, Superbugs, by Matt McCarthy. Ethics professor Matt McCarthy is a physician and researcher on the front lines of ground-breaking clinical trials, testing a new antibiotic to fight lethal superbugs, bacteria that have built up resistance to life-saving drugs.
These trials serve as the backdrop for Superbugs, and the results are supposed to impact nothing less than the future of humanity. In this book, McCarthy explores the history of bacteria and antibiotics, from Alexander Fleming's discovery of penicillin, to obscure sources of innovative new medicines (often found in soil samples), to the cutting-edge DNA manipulation known as CRISPR, bringing to light how we arrived at this juncture of both incredible breakthrough and extreme vulnerability. The proverbial ticking clock will keep readers on the edge of their seats. Can McCarthy save the lives of his patients who have lost all hope, infected with deadly bacteria? It's a question only the future can answer.


Sonia Shah's 2016 work Pandemic: Tracking Contagions, from Cholera to Coronaviruses and Beyond was published in India for the first time in September, with a new preface on Covid-19. Shah is a science journalist, and this particular book was New York Times Book Review Editor's Choice in 2017.
Shah says, 'Where do pandemics come from? How do microbes turn into deadly pathogens? These are some of the questions I explore in this book. I hope readers will find insight into our current predicament and possibly even some comfort, because there's much we can do to prevent pandemics from happening in the first place'.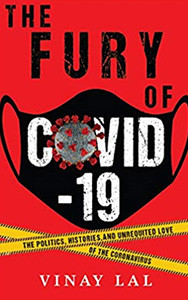 In winter came yet another book, Vinay Lal's The Fury of Covid-19: The Politics, Histories and Unrequited Love of the Coronavirus.
Lal is a Professor of History at UCLA, cultural critic, blogger and public commentator. Life in this world has made a dramatic gear shift due to the Corona virus pandemic. Most countries imposed a 'lockdown' and shut down their borders. In Italy and Spain, old people were left to die; in India, millions of migrants took to the road. In some countries, rulers have assumed emergency powers. America, the world's superpower, has been brought to its knees. The economic impact of the outbreak has been shattering; the environmental implications may yet be monumental. Investigating all these trends and the 'social, cultural, political, and philosophical aspects and implications of the pandemic', this book evaluates the fate of humankind and the earth in its wake.
Though its fatality rate, in comparison with some previous epidemics such as the Black Death and the 'Spanish flu' of 1918-20, is strikingly low, and though it follows in the path of epidemics such as HIV, SARS, and Ebola, the coronavirus pandemic has produced outcomes which are altogether unprecedented. There is no other instance where the world was, over three months, brought to a standstill and the global economy shuttered. Professor Lal's book unravels the societal changes the Corona virus has succeeded in effecting.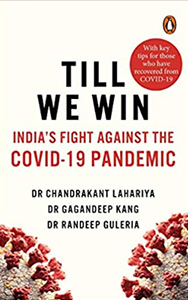 Till We Win is an account of India's fight against COVID-19 and how to deal with the Pandemic in the days to come, written by three of India's best-known doctors, Chandrakant Lahariya, a leading public policy and health systems expert, Gagandeep Kang, a world renowned vaccine researcher and virologist, and Randeep Guleria, a globally respected pulmonologist.
Guleria, who is the Director of All India Institute of Medical Sciences, says, 'There has been talk of a pandemic for many years. Yet, we never really thought it would cause so much disruption till COVID-19 hit our country. Till We Win is a story of how no country was fully prepared for a pandemic of the nature of COVID-19, yet India pulled together despite all odds, and is continuing to successfully tackle the pandemic. The book deals with the realisation of inner strength and unity amongst people of all walks of life in a country known for its cultural and linguistic diversity.'
Commenting on the scope of the virus and its future, Gagandeep Kang says, 'Viruses emerge and sweep through the world because of human action, but scientists now have the ability to recognize new infections early, track their spread, and develop tools for diagnosis and prevention quicker than ever before in history. The scale of SARS-CoV2 was surprising, but in just a few months, our increased understanding and effective approaches have been able to better prevent infections and treat those who are severely ill. We will handle this pandemic and use what we learn to do better next time.'
Lahariya adds: 'One of the key developments during the COVID-19 pandemic has been that the health became a mainstream discourse.'
'The need for stronger health systems and a better provision of public health (preventive and promotive) services has been recognised by political leaders, policy makers and public alike. There is emerging learning that the countries with stronger primary health care services had more effective pandemics response. The book delves into how learnings from COVID-19 pandemic can be used to strengthen Indian health system, for better, forever. It is up to all of us to convert the challenge posed by pandemic as an opportunity to strengthen health systems', he says.
Publishers Penguin Random House says, Till We Win is a book of hope. It will show how India has continued to persevere in her fight against this deadly virus. It will answer many essential questions. How long will we have to go on wearing masks? Will we need to wear a mask even after we get a vaccine? What if there is no effective treatment against COVID-19? From the general public to political leaders, policymakers and physicians, each and every kind of reader will be enlightened.'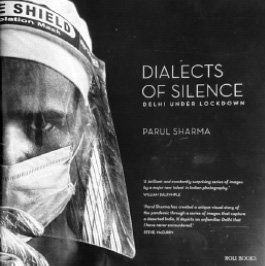 Not many non-expert books on the pandemic yet-- none of India's poetic and prolific writers have made public any of their work. The personal accounts, one expects will come as books in 2021. Roli books has distinguished itself with two books this year. One book was Dialect of Silence, a Delhi overview of the pandemic. Some of the photographs are evocative.
In her introduction, author Parul Sharma reminds us of photographer Robert Capa saying: 'If your pictures aren't good enough, you aren't close enough.' Adding: 'What you see in the following pages are my closest encounters with the sighs, solitude, sorrows and consolations of a despairing city.' In the trenches of the frontline are the Covid Warriors, brave men like Dr Rajesh Malhotra, who worked an eighteen-hour shift, seven-days-a-week, staying in the hospital to catch sleep in snatches.
In one review, Ganesh Saili says, 'Making these stunning black and white pictures, brought home to the photographer the value of simple things. Things that we take for granted. Like staying home and just pottering around. For when the 'hurly-burly' is done, all we are left with are family and friends have. Life, after all is so fragile – here today, gone tomorrow. At day's end these are the things that human beings treasure.'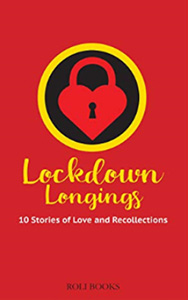 Roli has come up with another set of stories, or mini novellas, one can call these, Love and Lust in the City of Masks. The second book from Roli is Lockdown Longings, an autobiographical fiction – more like an anthology of ten perspectives, clearly based on the personal experience. Amidst the expert books, some more writing of this genre is a breath of fresh air while one is 'bogged down', as my ninety-year-old aunt puts it.
- Papri Sri Raman