Kota Neelima: Women are expected to be conveniently invisible in this country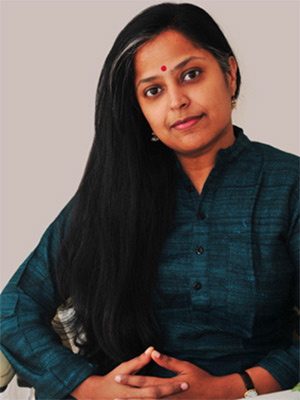 Kota Neelima is an Indian author, columnist, painter and TV panellist. She writes regular columns for The Huffington Post India, DailyO, DNA and News18 India. Book Link brings to our readers her views on social issues, such as ill-treatment of women in Indian society particularly in villages, farmer suicides and the accepted notions of politics & society. This multi-faceted writer speaks to Radhika Tiwari.
Tell us a little about your journey as a woman that you are now, writer and painter? How did you come up with your first book Tirupati: A Guide to Life?
Kota Neelima: I write about farmer suicides and poverty in rural India. All through my research as I travelled in the villages, I had discovered that people find spiritual strength to deal with the difficult times. That was the inspiration behind my book on Tirupati, through which I tried to explore how religion, and places of worship, provide a spiritual reconciliation to people.
Other than an author you are a brilliant painter, how do you balance both of them? What is more close to your heart – the Pen or the Brush and why?
Art and literature are two of the many methods of communicating human thought. There are times when a thought can be communicated only through language, and there are times when language fails to communicate the thought. That's when art helps in presenting the thought through the visual. Similarly, when thought cannot be expressed through colours and visuals, language helps in presenting it in the form of text. The dynamic between the two methods enables me to explore the entire scope of a thought without being limited by a single form of expression.
In a country like ours, we really don't focus on following our passions and dreams. How does individual contentment/happiness add up to the overall development of a person and thereby a nation?
Good question. Developing countries have been told through economic research that the best way to prosperity is by increasing production and maximising consumption of such products. For this, an army of trained personnel are required, and our education system provides the 'professionals' who fit the pattern. However, because the focus is only on consumeristic production, there is no scope for individual talent. Any excellence in fields that are not connected with the production process is considered useless. If India wants to become a strong, developed nation, it must find its own path to its identity, and not try to repeat patterns that have succeeded elsewhere in the world. Duplication will merely lead to mediocrity, while innovation is key to progress. And at the heart of all innovation is creativity.
Your writing mentions political ethics. How would you explain this term in simpler language to our countrymen and government?
Political ethics are not unknown to the people of India; the country has a long legacy of principles of governance, justice, rights of citizens, as well as the conduct of the ruler.
The great epics of Mahabharata and Ramayana discuss the concept and principles of Dharma. The life of Ashoka and Buddhism show the path towards reconciliation and non-violence. Mahatma Gandhi demonstrated through his own life, the importance of equality, secularism and transparency in public life. The Freedom Struggle itself was based on the political ethics of colonisation and the British democracy.
Since Independence, however, there has been a slow but steady change. Political ethics were meant to be the rules for and responsibilities of those in positions of power. Now, however, political ethics have turned into ways and means of gaining and staying in power. My books, Shoes of the Dead (Rupa, 2013) and The Honest Season (Penguin, 2016) were about political ethics among the recent governments in India.
What do you think prevents a woman from breaking out of her shell in the first place? And why is the term 'Women Empowerment/ Feminism' seen as a threat by some section of our society? Are we as a society doing justice to this topic at all?
The structures within which a woman must live her life in India are restrictive and prevent her from achieving her full potential as a human being and as a citizen.
A simple example would demonstrate this; a woman cannot walk on a road in any part of India at any time of the day without being stared at by men, her every action monitored, and her conduct scrutinised. Women have got used to living under these conditions, but that does not mean that they are free and equal citizens of this country. The structures of our society and country prevent a woman from breaking out of her shell; she has no option but to yield to survive. Empowerment means free choice. An empowered woman can break out of the shell and survive, she need not surrender. However, choice has always been seen as a threat by oppressors, and those who want to exploit others.
As I discovered in the research for my book, Widows of Vidarbha, Making of Shadows (Oxford University Press, 2018), the spirit of the woman cannot be killed even through generations of exploitation and subjugation. The women not only survive the farmers' suicide, but also empower themselves to support their families and sometimes the parents of the deceased farmers as well. That is the strength of the Indian woman that no patriarchal structure can take away from her.
Now, to answer the last part of the question. India cannot do justice to women; women are expected to be conveniently invisible in this country. The 'good' Indian woman should be unseen, unheard and unmentioned in public. Indians, for generations, have trained girls and women to remain in the shadows. It is now time for the women of India themselves to find the daylight and emerge from these shadows.