Puthaga Sangamam 2017 in Chennai a big hit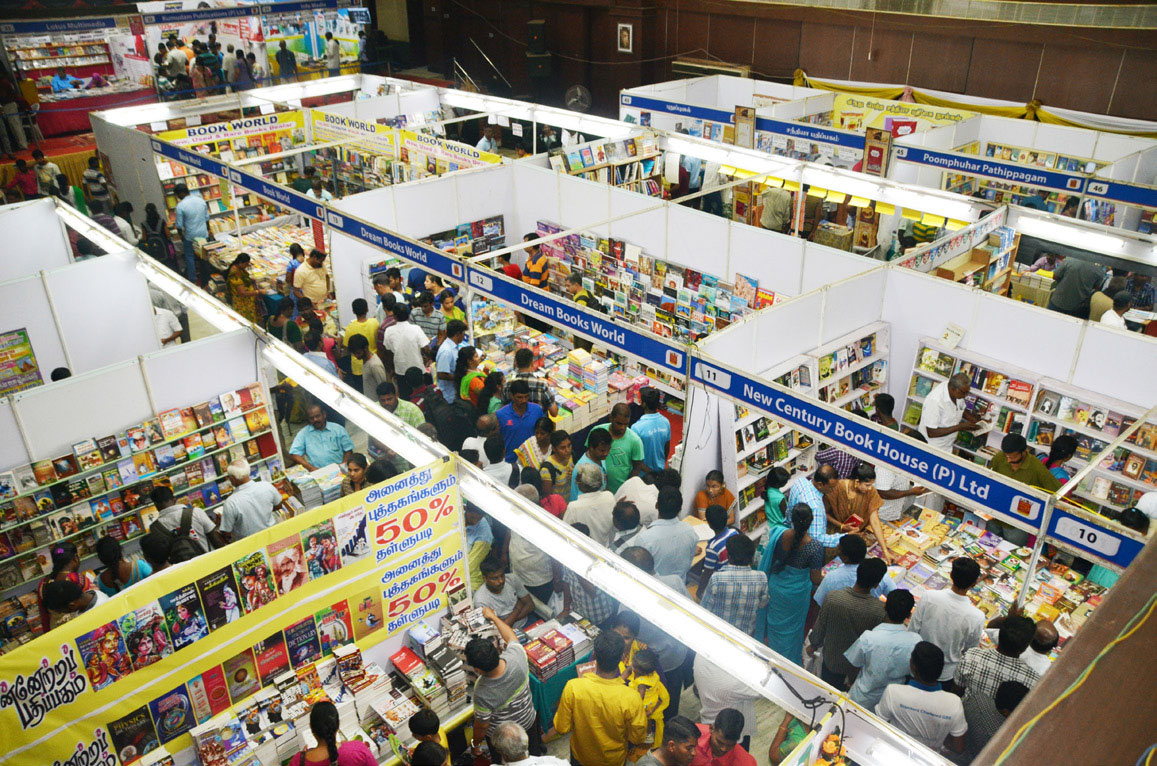 G Olivannan
CEO of Emerald Publishers
---
Periyar Self-respect Propaganda Institution, Chennai, has been organising Chennai Puthaga Sangamam (Chennai Book Festival) for the last five years in April to coincide with the World Book Day and copyright day – 23 April. This year it was organised between April 21 and 25 at Periyar Thidal, Vepery, Chennai.
The last two years book fairs (2016 & 2017) were dedicated to bargain book sales. The publishers in
Chennai for quite some time have been longing for such fairs to offload their reminders at cost price. Similarly, buyers who could not otherwise afford to spend for the full value of the book used this as an opportunity to quench their thirst for knowledge. The welcome feature of this book fair was that for the first time in Chennai this was conducted in a cosy airconditioned hall, a welcome respite from the scorching heat. This could well be another factor which drew a huge crowd. All the five days, irrespective of work days or weekends, crowd thronged the fair in large numbers and helped exhibitors fill up their coffers. A well known publisher, Manushyaputhiran, said that he had never walked out with so much of happiness after a fair, as his stocks were completely sold out.
Thamarai, a 16-year-old school girl was busy picking up books of her choice from the heap of books scattered on a table. When asked what she found interesting, with a big smile, she said with little money, she was able to buy many books, thanks to the generous discounts offered. An old couple in their 80s were busy browsing at the Tamil stalls and Parathasarathy did not hesitate in saying, normally they avoid visiting book fairs for the fear of the heat and dust. He was happy that this fair was conducted in a pleasant environment and added to it, the books were sold at rock bottom price. He wondered why such fairs do not occur frequently in Chennai.
The organiser of the event, V Anburaj said the objective of their organisation was to inculcate reading habits in the young minds, which is now at risk primarily due to the invasion of electronic gadgets at every home. 'We have not collected any entry fee from the visitors only to facilitate more people to attend our fair', he said.
Some of the highlights of the exhibition were speeches, debates during evenings on the fair days. Every year the fair organisers identify people who have contributed outstandingly to the book industry and honour them with 'puthakar awards'. Since April is a holiday month for school children, various activities, competitions were conducted for children. Another significant feature of the fair is that every year, visitors and public in general are encouraged to donate books from their personal collections, and in turn the organisers donate it to government-run schools. This year, in addition to the public, few publishers too have generously contributed books. To coincide with the book fair a traditional food festival was organised.
On the whole, Chennai Puthaga Sangamam in April is a welcome bonanza to the population of Chennai, in exploring the world of literature.