India's first Village of Books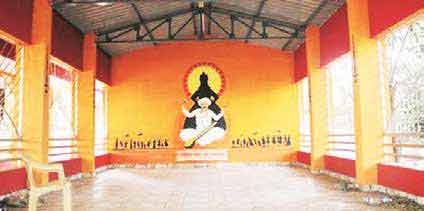 In a first, residents of a small village in Maharashtra are offering up their premises to stack books for public reading, thus coming up with what is supposedly going to be the country's first 'village of books' which opened to public on 4 May. Nearly 25 premises, which include three temples, two schools, seven houses and several lodges and homestays spread on a stretch of 2 km in Bhilar village, 7-8 kms from Panchgani, would open their gates for public reading. With around 10,000 books to be made available for reading in a village with a population of 10,000, Bhilar will probably have the highest per capita availability of books for any village in the country.
The Maharashtra government got 75-odd artists to paint the walls of the 25 premises at Pustakanche Gaon (village of books). The state did crowd sourcing by inviting Swatva, an informal WhatsApp-based artist and art-lovers' network, to take up the task of decorating the village. The artists participated in a three-day wall painting camp at Bhilar near Mahabaleshwar and covered the 25 premises measuring 11,000 square feet with paintings and graphics to indicate which genre of books are kept at a particular house, school or a temple, just like demarcating types of books in a library. For a place that has books on Shivcharitra (life of Shivaji Maharaj), paintings of fort and the warrior king have been created on the walls and for a building that has literature on saints, paintings of famous saints have been used to adorn it. The 25 premises in the village have 25 different paintings. 'These artists voluntarily accepted our invitation and boarded a bus to Mahabaleshwar to paint the walls in the village with their imagination. The outcome was amazing and for the people to see,' said the Minister of Cultural Affairs and Marathi Language, Vinod Tawde. Praising the people and the administration of Bhilar, Tawde added, 'The village administration has been very enthusiastic and working with us on the project. The best part is that the people of Bhilar have understood the concept of creating a book village very well, making it easy for us to implement it on the ground.'
Inspired by the Welsh town, Hay-on-Wye, which is famous for its book stores and literary festivals, the book village in the state was supposed to come up by November 2015 as announced by Tawde himself. 'Although an international concept, we are giving it a very Indian look. The project is aimed at promoting a book village or town of books and eventually making it a main tourist hub by itself, just like Hay-on-Wye. Not just this, the goal is also to promote Marathi language,' Tawde said.
Currently, all 10,000 books provided by the state government are in Marathi. The state plans to add 15-20 per cent more to the collection and those books will be in Hindi and English. 'We also plan to organise literary events, interactions with authors and poets, and book-reading sessions,' Tawde said.
Courtesy Indian Express