Serving satire with aplomb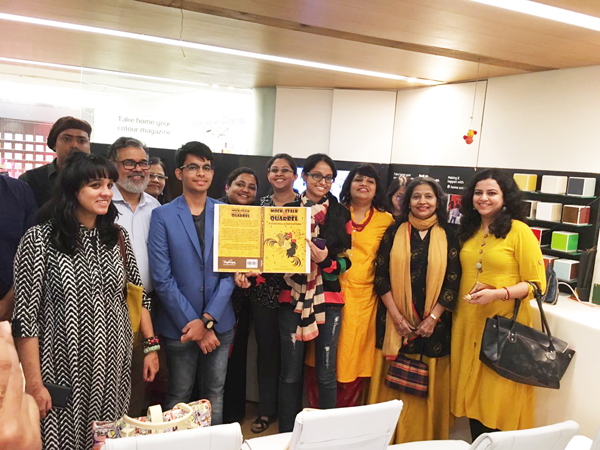 Readomania, in association with Beyond Coffee and Words, recently organised a panel discussion on Journalism, Indian Media and Use of Satire, which was followed by the cover launch of Readomania's upcoming anthology of satirical stories, Mock, Stalk and Quarrel.
The panel included veteran journalist Manjula Lal, Deputy Editor of Tehelka, who shared with the audience her experiences and views, giving them an insider's account of how things work in an Indian media house. The conversation was centred around the role of print and TV media, the need and consequences of 24-hour news channels, various styles of journalistic reporting and the lines that are drawn and crossed in an overzealous attempt to cover news.
The conversation, in which the audience were an eager participant,
was then followed by the launch of Mock, Stalk and Quarrel, which is a collection of 29 short stories selected over a nationwide writing contest. The authors include some well-established names like Amrita Mukherjee (Exit Interview, Rupa Publications), Ranjan Kaul (Managing Director, Oxford University Press India), Paulami Dutta Gupta (Screenwriter and Author) and Manna Bahadur (Doordarshan anchor and newsreader).
Post release, the authors present on the occasion engaged with the audience and amongst themselves to have a lively conversation. Authors like Ranjan Kaul and Manna Bahadur shared their experiences from publishing and journalism respectively along with their peeves with a rapidly developing, technologically advanced world. Newbie authors like Vibha Sharma, Aryan Huria, Kanchana Gupta and Piyusha Vir spoke about their respective backgrounds,
how they got into writing, and the inspiration behind their individual stories. Others, like Anupama Jain, Esha Chakraborty and Aashisha Chakraborty spoke about their attempt at writing satire and how they drew from personal experiences to write a story that would be relatable to all.