Gulzar: A pen that films in words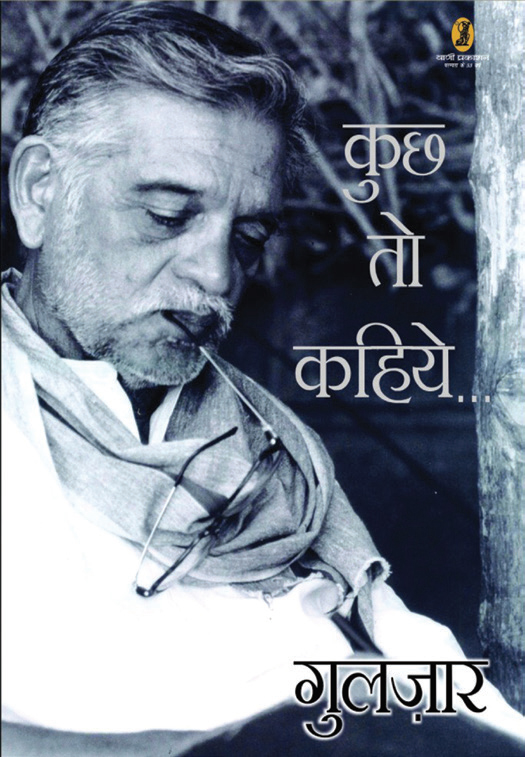 Title: Kuch to Kahiye (Hindi)
AUTHOR:Gulzar
PRICE: Rs.495
Publisher:Vani Prakashan
Sampooran Singh Kalra is universally known as Gulzar, one of the most popular poets of our times. Gulzar writes poetry in both the gazal and nazm genres. He is bold in continuing to use chaste and pure urdu (originally Persian) words, similes and metaphors and carries his huge audience and vast readership on the strength of his unadulterated passion for poetry. He is basically a classical being—that is why he holds all trophies from bygone days close to his chest. Anyone who has had the liberating experience of listening to Gulzar in person will know that his poetry has become a part of his persona and his persona has seeped into his poetry.
His lyrics resonate in the same way as his deep, commanding but soothing voice. His poetry encompasses all, the full gamut of human emotions; love, longing, separation, union, joys and sorrows that actually constitute life. In 'suspected poems' originally written in Hindi/Urdu and like some of his other works ably translated in to English by Pawan Verma, Gulzar had a full say on issues ranging from political milieu, tolerance and intolerance, media and the Indo-Pak imbroglio to common man's miseries of price rise, ration shop queues, unemployment etc. The book of gazals is titled Kuch to Kahiye (Say Something, At least), the line being from one of Galib's famous verses: Kuch to padhiye ki log kehte hain Aaj Galib gazal sara na hua
(Read something please, or else people will say Galib had no gazal to sing today. ) Gulzar takes liberties with the meter of gazal on many occasions, allowing his pen to run the way it wants to. But that doesn't mean that Gulzar consciously tries to break loose. He holds on to the good old world vocabulary and doesn't resort to substitution. Gulzar is at a place where his readers read an unfamiliar word and seek it's meaning rather than expecting Gulzar to change his ways. Gulzar looks at the ordinary around him but gives it a new meaning, in doing so he is innovative. Sheher ke ander log lage the gamlun main Sheher ke bahar sara ilaqa banjar tha
Ayaz Rasool Nazki
The poet headed the Kashmir chapter of ICCR for several years and has a dozen books to his credit
(In the city people were fixed on the flower pots/and outside the city, the entire place was barren.) Such expressions are numerous and Gulzar seems to have developed a new vantage point from where to see the scene in front of him. He is essentially a filmmaker, who is using his pen to create a film from his personal perspective. He has everything in him, the script, the camera and the editing table. What the reader of his gazals gets is a multi-colour mosaic of life or life itself.
Beete rishte talash karti hai Khushbu gunche talash karti hai Badi pagdandi sheher tak aakar Apne bête talash karti hai Apne mazi ki justaju main bahar Peele patte talash karti hai
The poet is socially conscious of all that is going on in the society and his verse offers a mirror to these happenings and characters. But Gulzar is unique in keeping his creativity alive and intact even when he is talking of routine issues. His verses escape the dangers of becoming dated. Perhaps, it is again the creativity of seeing the world through a lens that ensures that each frame is durable and leaves an ever-lasting impression on the mind of his viewer.