Vibhor: many colours of literature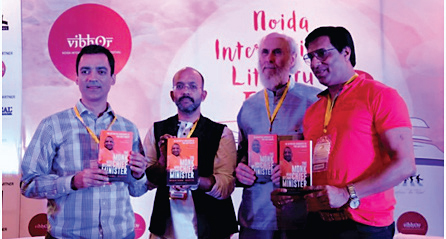 This year, the Noida Literature Fest has added its name to the list of other lit fests that happen in winter. The first Noida International Literature Fest: Vibhor, took place in the lushgreen field of Noida Golf Course on 27th and 28th October.
Though the fest got kickstarted on a very humble note with a few spectators yet it paid off well with its insightful sessions, art gallery, book stalls and mouth-watering eateries. The sessions saw the likes of Director-Producer Madhur Bhandarkar, Teacher and Author David Frawley, and RJ Khurafati Nitin amongst some budding storytellers, stand-up comedians, musicians, dancer and writers. Both the days began with 45 minutes of musical symphony named Shadaj, which roots from a Sanskrit word Shataj referring to the first note of the Sargam. A few other light sessions such as Dastan Goi (A form of Urdu Storytelling) and Sufi Nights were also arranged to introduce the audience to the Mughal's way of entertainment and living.
But what set the Noida Lit Fest apart from the other literary festivals was that It was not only about literature and books, but it had also focused on the other spectrums of books' world like (self) publishing, online and offline promotions, e-books and its future etc. Subsequently, it also held sessions on topics like social media, Mughal history, romanticism, Bollywood, Women-power, crime along with movie screenings.
The biography of Yogi Adityanath- The Monk Who Became Chief-Minister authored by Shantanu Gupta also got released during the two-day fest in the presence of Madhur Bhandarkar and Jujhar Singh. Director of Indu Sarkar Madhur Bhandarkar said that making biopics in India is really tough, as he faced a number of challenges in getting Indu Sarkar to his viewers. The people who talk about freedom of expression for Mersal were seen nowhere to support it when needed. 'Why is there a double standard on freedom of expresion?', he remarked.