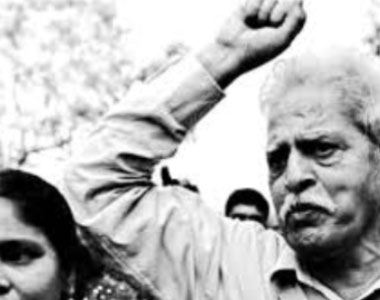 People's Poet Varavara Rao's Anthology to be Published
An English-language anthology of Varavara Rao's poems will be published by Penguin Random House India in 2021 under its Vintage banner, the publishing house has said. This book will be a commemoration of Rao's immense talent and will be a record of his political beliefs and his assertion of the primacy of people's rights in every sphere of public life.
Born in Warangal in 1940, Rao worked as a teacher and then as a publication assistant with the Ministry of Information and Broadcasting. After he retired, he mentored a literary group that produced a literary journal called Srujana. The journal was initially published on a quarterly basis, but following wide popularity, it became a monthly journal in 1970. Srujana was published from 1966 to 1992, and focused on publishing the works of young, local poets. Srujana was later replaced with a new journal named Arunatara. Rao, along with a group of Telugu writers, periodically self-published stories, poems, and other literature, and sold them directly to book sellers.
His body of work is recognised as one of the strongest documents and critiques of Indian history since independence. Rao began publishing poetry in the late 1950s in journals and magazines, and his first poetry collection Chali Negallu (Camp Fires) was published in 1968.