A scholarly peep into State politics!
Title: State Politics in India
AUTHOR: Roy, Singh & Chouhan
PP: 920
PRICE: Rs.575
Publisher: Primus Books
Let me make a confession at the outset. I am a lazy reader. I have never ever read such a bulky (yet thoroughly interesting) book ever in life. The question of reviewing it thus did not arise before. Reading for pleasure is one thing and reading for reviewing a book is different. I have been reviewing books for many years now for different publications but this single book is the mother of all earlier books that I introduced to my readers from time to time. This one huge volume (editors could have split it into twothree volumes but may have their own difficulties) has been with me for some time and I had been flipping through it but never picked up courage to thoroughly read and properly review it. However, the recent political upheavals forced me to pen this piece and re-read most of the book's 900 odd pages rather hurriedly. Politics is one topic which a large number of educated people love to read about and about an equal number, or perhaps more number of people hate to read and discuss it. But we must admit, the advent of the Modi brand of politics has changed the scenario completely in India. There are many more followers of politics than ever before. Social media has added to this number beyond anyone's expectations. It's a disputable fact though that how many of those social circuit animals or Twitter followers of different netas heard and seen engaged in animated discussions on politics actually read scholarly works like this. I repeat, this is indeed an 'unreadable' book for an ordinary book lover, as also for a lay follower of politics in this country.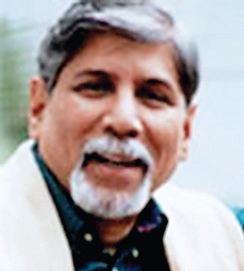 Abhilash Khandekar
Writer is a senior journalist and writes about environment, politics and urban affairs
The book talks in great depths about societal changes, cultural changes, technological advances and political science while focussing on the shifts in States politics or in other words, regional politics, and the way it's played out locally. Having said that, I would like to straight away recommend this book to anyone having even customary interest in politics, economics and history of contemporary India. They would learn a lot. The editors have done a good job of bringing together an array of contributing authors, to write about each State of India and two Union territories (Pondicherry and Delhi). So there are 29 States and two UTs covered in the book covering past political trends and present situations, up to a certain point. The preface takes note of BJP's historic win in the general elections of May 2014 and predicts the party may get majority in Rajya Sabha, which it eventually secured with better performances in State elections of Jharkhand, Maharashtra, Haryana, UP and so on. The central idea of the book is that while many scholars tried to take a different path of researching and writing about State politics, other than that of national focus, most of the such scholarly endeavours were limited to a few States or States governed by common ideology, such as, for example the Left-ruled states. This is the first comprehensive effort of dealing with all the States, the editors claim.
Himanshu Roy was Fellow at Nehru Memorial Museum and Library, Delhi while MP Singh was a political science professor at Delhi University and APS Chouhan, the third editor, is the HoD of Political Science Dept, at Gwalior's Jiwaji University in MP. Naturally, most of the writers chosen to contribute on different States are top academicians in one or the other university or a research institute of the country. The book's slant of writings is naturally academic in content, which is expected. When seasoned journalists and acclaimed authors (other than pure academicians) write on politics they bring in a distinct flavour which is missing in this book yet it's a hugely praiseworthy and painstaking effort, I must say. What is very significant is the fact that the smaller States of the NE such as Arunachal, Assam, Meghalaya, Nagaland, Tripura, Mizoram, Manipur and Sikkim have been dealt with equal measure in this book. Justice has been done to the seven sisters by mainstreaming them with other States, including Maharashtra, Tamil Nadu, Gujarat or UP, to name just a few of the 22 remaining States from the plains. The Modi government often argues (and is practicing it too) that the 'rest of India' does not care much about the NorthEast region. So when you read about Sikkim, you get to know how true this is....it was ruled by a Bhotia ruler for 333 years on the Lamaist theocratic pattern. The State was merged with the Indian Union after many controversies after full 28 years of independence. The local population is dominated by Nepalese people. The caste and social complexities are way different from its neighbouring tiny States. The author (AC Sinha is a scholar on Nepalese) introduces the State and it's intricacies very well. The State has only two seats in the Lok Sabha, yet political movements have been taking place since 1947. According to the author 7 December 1947 saw the first and 'unprecedented' meeting of a distinct political nature at a football ground in Gangtok. My decision to review this book is timed with many politico-electoral outcomes of recent times. Tripura, Meghalaya and Nagaland sprung politically significant results in early 2018, helping BJP make surprisingly deep inroads there in the Assembly elections. Then a few days later, the ageing Chandra Babu Naidu jolted the NDA alliance by withdrawing from the coalition in Delhi on the issue of 'special treatment' to his new and divided Andhra Pradesh. In Maharashtra too, the Shiv Sena has been threatening to part ways with BJP. These developments clearly show that State politics and regional forces are important and the equations formed there from time to time, besides the local social and cultural issues, can no longer be brushed under the carpet even as we all focus our attention on what is happening in Delhi. States politics, regional aspirations, history, economic conditions are all important, this book reiterates in greater details. Andhra Pradesh was the first State to have been formed under the linguistic formula in 1956. Three regions of Telengana, Coastal Andhra and Rayalaseema, with the two latter named regions as part of Madras Presidency and Telangana was under the preindependence princely State of Hyderabad. So they had very different backgrounds yet they were formed as one State on the basis of use of the Telugu language by the Justice Fazal Ali Commission. After about six decades, Telengana and AP stood divided in 2014 , as was predicted by Justice Ali then. The commission was of the opinion that merging backward Telangana with advanced Andhra 'may lead to discord and demand for separation'. This is exactly what has happened, though after many agitations, loss of property and life over the decades, writes K Srinivasulu, a professor from Hyderabad. The other interesting State which must get a mention, though politics of all States cannot be explained here obviously, is Uttar Pradesh which recently provided a small setback to Saffron chief minister Yogi Adityanath whose BJP lost his long-held parliamentary seat of Gorakhpur. The author of UP chapter, Vinny Jain ( Agra), starts with Akhilesh Yadav coming to power in 2012 as the youngest Chief Minster of the once largest State of the country, always struggling to find answers to its complex caste politics. It delves into the choppy political history of the mega State which was halved in 2000 to create Uttarakhand. Thanks to the Yadav family squabbles that came into open and later the delayed decision by Congress of striking up an alliance with the Samajwadi Party, BJP stormed home with a robust win in 2017. UP is one State which has sent a number of prime ministers representing different political ideologies to Delhi. Charan Singh, Chandra Shekhar, VP Singh, AB Vajpayee and Narendra Modi stand out. This is one State which needs one full book (or books), though one is aware of writers who have done lots of research work on UP. Well, before I move on to the last State of Madhya Pradesh, being situated in central India and year (2018), I must mention briefly a chapter, 'Missionaries, Marxists and the Model State' which focuses on the Kerala model of politics. The State was first to elect a non Congress government even when Pt Nehru was alive and his charisma had not faded. It was an age, as the author Burton Cleetus (JNU) tells us, in which Marxian ideas and forms of state systems had emerged in the midst of global political contexts and therefore, of conflicting interests and positions. The victory of leftist ideology in an Indian State had attracted global intellectuals and political pundits to watch how Marxism was going to raise further hopes of an alternate political philosophy in a nation that had been liberate just about a decade ago by the capitalists controlled from London. With West Bengal and Tripura fallen, the only red flag that is still flying is in this coastal State, and once again a focal point of global politicians. Madhya Pradesh, by contrast, had been a placid State, much less industrialised and a BIMARU club State. But it has its own specialities. Political upheavals it has witnessed many. In relatively recent times, when neighbouring UP was dominated by the caste politics of BSP (it also formed government), BSP could not make much of a dent into MP with large tracts of land adjoining UP. Author duo APS Chouhan and Niraj Jha highlight the social issue of hunger, giving data that proves MP much below African countries of Ethiopia and Chad in nutritional levels. Well after 15 years of enjoying continuous powers, the BJP has completely failed to bring about solid systematic corrections in this sector even as poor kids continue to die. The GDP has also been low and corruption, rampant. It was a sprawling, incoherent and inefficient administrative unit, sought to be made coherent by the magic touch of language.' How State politics has been changed by the BJP through sheer organisational efforts and Modi's charisma is evident now with 21 States having a saffron right wing government as of now. The 'Congress mukt Bharat' slogan of Modi seems to be clicking. Smaller States like Tripura or Assam and larger states like UP and Maharashtra have been won after BJP had formed government in Delhi under NaMo with clear majority. This historic shift has not been captured in the book fully as it hit the market a few years after BJP's massive mandates. Yet it takes into account the gradual rise of BJP in other States such as MP, Rajasthan, Gujarat, while still dealing with cultural, social and economic issues that each State treaded since its birth and how each of them tackled the caste complexities.