John le Carré Won't Come in Anymore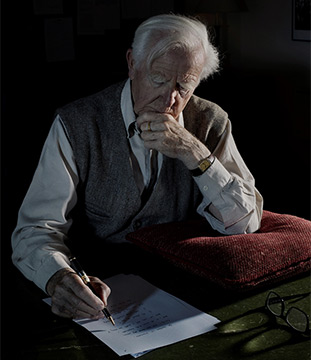 John le Carré has gone into the cold. He won't come in any more… that is in person, though his books will forever thrill spy story buffs. And film buffs who have seen The Spy who came in from the Cold, the 1965 British cold war film directed by Martin Ritt and starring Richard Burton, Claire Bloom, and Oskar Werner. Another memorable work from le Carré has been Tinker Tailor Soldier Spy. John le Carré was his pen name.
Born David John Moore Cornwell in 1931, le Carré died on 12 December, of pneumonia in the Royal Cornwall Hospital, his family said. He was 89 and is survived by his wife and four sons. His agent, Johnny Geller described him as 'as an undisputed giant of English literature'.
Many of the English spy thriller genre of writers were themselves spies, as was Cornwell. Ian Fleming, for example, worked for the British navy and the British secret service during WWII and created the James Bond series first as books, which were then converted into racy films by Hollywood and UK's film industries.
Cornwell began working for the Intelligence Corps of the British Army garrisoned in Austria, working as a German language interrogator of people who crossed the Iron Curtain to the West. In 1952, he returned to England to study at Lincoln College, Oxford, where he worked covertly for the British Security Service, MI5, spying on far-left groups for information about possible Soviet agents.
In 1960, Cornwell transferred to MI6, the foreign-intelligence service, and worked under 'Second Secretary' cover in the British Embassy at Bonn; he later was moved to Hamburg as a political consul. There, he wrote the detective story A Murder of Quality (1962) and The Spy Who Came in from the Cold (1963), as 'John le Carré' - a pseudonym required because Foreign Office officers were forbidden to publish under their own names. His debut Cornwell wrote his first novel, Call for the Dead in 1961while he was an active MI5 officer. He would go on to explore the role of big pharmaceutical companies in The Constant Gardener (2001); the War on Terror in A Most Wanted Man (2008) and A Delicate Truth (2013); and the drugs and arms trade in The Night Manager (1993), which was adapted for television in 2016 by the BBC in a hugely successful series.
le Carré's relationship with Ronald Cornwell, his father, 'conman, fantasist, occasional jailbird' would be the inspiration behind his most autobiographical novel, A Perfect Spy. In 2016, le Carré published his memoir, The Pigeon Tunnel, which, he said, could have been the title for many of his novels.
In 2017 he published his extraordinary novel, A Legacy of Spies, a work that not only returned to some of the most captivating characters from his Cold War novels but also reflects on the wisdom and pain of hindsight.
In September 2018, all of John le Carré's backlist was published under the Penguin Modern Classics livery – one of the largest bodies of work by a contemporary writer on the Penguin Modern Classics list. In the same year his novel, The Little Drummer Girl (originally published in 1983) was adapted for television by The Ink Factory for the BBC and AMC.
John le Carré's last novel, Agent Running in the Field, was written 'in a fever' as le Carré described it, in 2019, when he was 88. In 2020 le Carré was awarded the Olof Palme Prize for his lifetime's work. (– BLT, courtesy The Penguin Newsletter)