DLF lit up the Delhi Haat, INA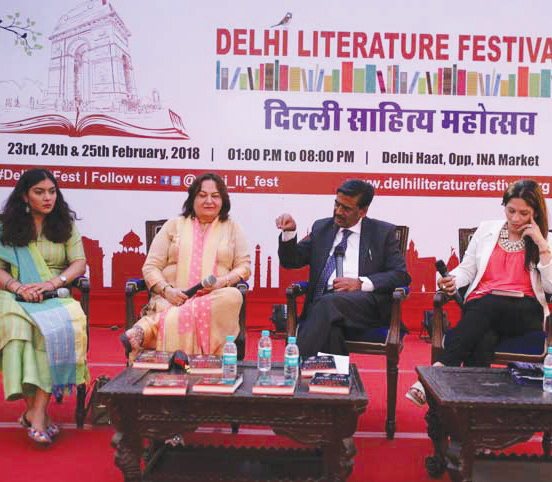 'The sixth edition of the Delhi Literature Festival's turned out to be a fantastic affair', said one of its organisers, Kunal Gupta. The festival at Delhi Haat venue, INA included three days of panel discussions, book launches, poetry recitation, book reading and interaction with eminent authors, writers and bloggers.
This year the main topic of discussion was Ganga-Jamuna Tehzeeb. The two mighty rivers flow over an area in which (like the Nile Valley) a unique way of life and manners has spawned over the centuries. Delhi, Mathura and Agra are still the most influenced area of the Braj culture of the region.
Noted littérateur Rakhshandha Jalil spoke of the aura that draws Muslims, Hindus, Christians and Sikhs to the dargahs on Thursdays; and this scribe recalled the days when courtesans taught tehzeeb (etiquette) to the sons of the nobility. Former Delhi Chief Minister Sheila Dikshit, who came later, added her own charm to the festival before it ended to encores.
In another session, author of the novel Rebound, Sanil Sanchar spoke at length about his tryst with writing, calling it as a 'natural escape'. He also encouraged young aspiring authors to take the lead. He said, 'Everybody has something unique to bring to the table and there are different readers for different kinds of books. There's always an audience for everything'.
Though the footfall on the first day was disappointing the festival still lived up to its worth by the third and final day on 25 February.