NBT introduces book publishing course for women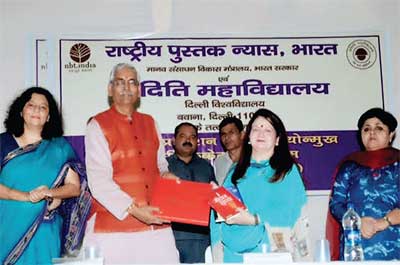 A seven-day session was organised by National Book Trust (India) in collaboration with Aditi Mahavidyalaya (University of Delhi) to commemorate its 60 years of completion where it introduced a book publishing course exclusively for women.
Baldev Bhai Sharma, NBT Chairman, inaugurated the programme and stressed the importance of women's role in the overall growth of a nation. Kiran Chopra (Writer, Humanist and Social Worker & Director Punjab Kesri) appreciated the drive and thanked NBT for introducing a course that would help more women to get into the publishing industry. Mamta Sharma (Principal, Aditi Mahavidyalaya), Neerja Nagpal (Course Coordinator) & Narender Kumar (Training Officer, NBT India) were among other distinguished guests who felicitated the one-week ceremony with their inspirational speeches.