Unto Rahim, his due at last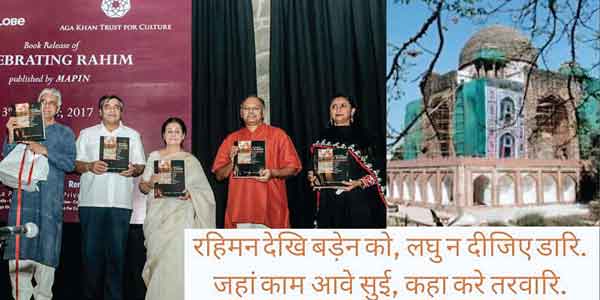 Most of us have read Rahim's dohas in school. Never thought of who he was. A book, celebrating the life and legacy of Mughal-era poet Abdul Rahim Khan-i-Khanan, launched on 3 October at IIC, Delhi brings to light his contributions to Indian literature, art, architecture, and culture. Celebrating Rahim was launched by InterGlobe Foundation, in association with Aga Khan Trust for Culture, as a part of a joint conservation and cultural revival project of Rahim's tomb on Mathura Road, Nizamuddin, Delhi (formerly the Grand Trunk Road) that started in 2014 under the guidance of Archaeological Survey of India (ASI).The book was brought out by Mapin.
The book locates Rahim's life, his artistic and political approach in the intellectual and imperial framework of the Mughal durbar through essays by noted scholars that shed light on his contribution to Indian literature.
The literary evening saw the book launched by the guestof- honour Padma Shri Syeda Saiyidain Hameed, former member Planning Commission of India, in the presence of Usha Sharma, Director-General, Archaeological Survey of India. This was followed by Dastangoi (a Persian art of storytelling) by Aamir Ahmed and Prateek Garg and musical presentation of Rahim's verses by renowned artists- Harpreet Singh, Dev Narayan Sarolia, Swaransh Mishra and Netai Das.
The Aga Khan Trust for Culture also organised a simultaneous three-day-long festival, where the poet's verses were represented through performances in folk music, musical narratives, and classical music. The festival took place at Stein Auditorium, India Habitat Centre, Delhi.
Explaining the reasons behind the festival, Ratish Nanda, Project Director, Aga Khan Trust for Culture said, 'While documenting Rahim's work, during our conservation project, we realised that his couplets have never been performed before'. Nanda added, 'Apart from the festival honouring Rahim, we are also putting up a month-long exhibition that talks about his work, his Ramayan translations and his association with other poets like Tulsidas'.
Rahim, however, had largely been forgotten with his tomb the Abdul Rahim Khan-i-Khanan being in a dilapidated condition until the Aga Khan Trust for Culture, in partnership with the Archaeological Survey of India and InterGlobe Foundation,started conservation work on the tomb two years ago.
The ongoing conservation project is focussed on physical restoration of Rahim's tomb by setting up the arcades, stitching of cracks, marble, sandstone cladding, canopies and dalans, interior and external surface, as well as landscaping of the site of the mausoleum, which is expected to reach completion by April 2018.
This is one of the few conservation initiatives at any of India's nationally protected monuments that are being undertaken in collaboration with a corporate. Rahim was amongst the most important ministers in Akbar's court. He was one of the Navratnas and continued to serve Salim after his accession to the throne as Emperor Jahangir. Besides being a strong administrator and military commander, Rahim was a great scholar and poet. He wrote verses in Turkish, Arabic, Sanskrit and Persian, translated the Baburnama in Persian and authored several prose works, including two books on astrology. The mausoleum was built by Rahim for his wife, making this the first ever Mughal tomb built for a woman. Rahim was buried here in AD 1627. Nanda said the tomb has a special history as unlike Emperor Shah Jahan's monument of love to his wife, Rahim's tomb was actually built by his wife when he passed away in 1627. Today, this magnificent tomb stands at the edge of the UNESCO World Heritage Site, a fitting testament to a poet, who through couplets venerating Lord Krishna, stands for everything that India is proud of.