Hilton on first India tour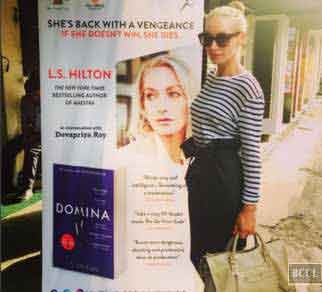 A usually quiet and quaint Cafe Turtle just above the famous Full Circle Bookstore in Greater Kailash turned into a haven for bibliophiles in the city on a breezy Tuesday evening when L S Hilton launched her second book Domina of the bewildering erotic thriller Maestra series for her Indian fans.
While reading a few excerpts from both her books, she gave her readers an insight into how her vengeance full protagonist Judith Rashleigh will further evolve as someone who would go to any extent to get her ambitions fulfilled. She also said, 'Judith is an angry character. But she also puts logic to that rhetoric to the test, like, how far would you actually go to achieve your dreams. And Judith starts off with when she's working in the auction house… she was sure that if she runs hard enough and believes enough she'll be a success. It doesn't work at all'.
Author Devapriya Roy, in a conversation with the British author on 13 June also discussed how Hilton explores the nuances of class in a subtle way. To which she replied, 'Someone had rightly said that no piece of fiction published in England provides anything other than class. That does pertain to a certain extent. We all pretend that these divisions and prejudices don't exist, but they do. But Judith discovers that it doesn't matter if she tries harder or is better qualified, someone else with better connections, and a different surname will always get on faster than she does and I think this is realistic'.
On being crowned as the next E L James, Hilton told our correspondent, 'It's an honour but I'd say that this (her) series has got a lot more to offer than just sex and Judith is completely the opposite of an innocent and submissive Anastasia Steele. I really hope that everyone likes it'.
The author was on her first book tour in India where she launched the second book in the thriller series in Delhi, Pune and Mumbai.