Delhiites favour these human books to cricket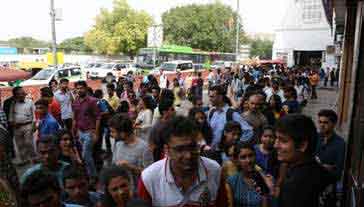 'Nothing compares to a beautiful conversation with a beautiful mind'. With an aim to establish a new means of social change and discuss the marginalised communities Innov 8, Connaught Place came up with an idea to form its first Human Library in Delhi.
The Human Library or Menneskebiblioteket (in Danish) was first developed by Ronni Abergel and his brother Dany and colleagues Asma Mouna and Christoffer Erichsen in Copenhagen. Gradually, it started gaining momentum across the world and was picked by no less than 80 countries, challenging the stereotypes. In India too, Harshad Fad initiated this phenomenal concept which led to the formation of India's first Human Library in Hyderabad.
The Delhi Innov 8 had 11 human books on the following social topics: Battling drug addiction (Another High), surviving cancer (Cancer Survivor), fighting domestic abuse (Break Free), becoming a tea-seller turned author (Tea Leaves and Books) and a female solo traveller (The Rover), among others where they also shared their personal experiences. Three of the most preferred human books according to Rupal Prajapati, member of the organising team, were The Artefact Hunter (a historian who collects old artefacts), Himalayan Conservationist (a travel photojournalist who feels that there's dire need of awareness for conserving the Himalayas) and Lekhak Ji (the tea seller with interesting accounts to share). Eager attendees began crowding the venue one and a half hours before schedule. 'We had booked this space keeping 500 people in mind. But, there's about six times the turnout we had expected. And that's just awesome', said Nishkarsh Kaushik, member of the Human Library team. 'The queue outside is so long that people might actually believe it is because of demonetisation', he laughed.
One reading lasted 20 minutes. As the visitors turned up in huge numbers, therefore, the organisers have decided to setup such meets every weekend. The event ended with the famous quote: We should never judge a book by its cover.