Two Indian authors on Wellcome Book Prize 2017 shortlist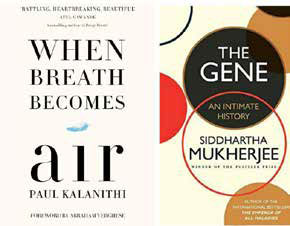 Two Indian-American authors have been shortlisted for the £30,000 Wellcome Book Prize, which celebrates fiction and non-fiction works engaged with the topics of health and medicine.
Siddhartha Mukherjee is on the list of the annual prize for his study of genetics and mental health in his book The Gene. He is joined by fellow Indian- American author Paul Kalanithi, who could become the first posthumous winner of the prize for his life-affirming reflection on facing mortality, When Breath Becomes Air.
Kirty Topiwala, publisher at Wellcome Collection and Wellcome Book Prize Manager, said, 'With so many new books now being published in this area, the quality of this selection is necessarily high, and we are immensely proud of this year's superb shortlist. Each of these books offers the reader something different, but they all capture the acute pleasures and pains of being human.'
Breath Becomes Air is a memoir which chronicles Kalanithi's transformation from medical student to neurosurgeon, patient and father before his sad death from cancer while working on this book. It is the first posthumously published title to be in contention for the Wellcome Book Prize.
The Gene highlights the relevance of genetics within everyday life and interrogates concerns with our growing ability to alter the human genome. Woven within this narrative is an intimate story of Mukherjee's own family and its recurring pattern of mental illness.
They form part of six shortlisted titles for this year, which were unveiled by the chair of judges and celebrated Scottish crime writer Val McDermid at the London Book Fair. The other titles in the running include How to Survive a Plague by David France, Mend the Living by Maylis de Kerangal, The Tidal Zone by Sarah Moss, and I Contain Multitudes by Ed Yong.
'What these six challenging, diverse and enriching titles have in common is their insight into what it means to be human. Together they form a mosaic that illuminates our relationship with health and medicine. It spans our origins, our deaths and much that lies between, from activism to acts of human kindness,' McDermid said.Courtesy Hindustan Times