A Raja on 2G: The year begins with a hot political potboiler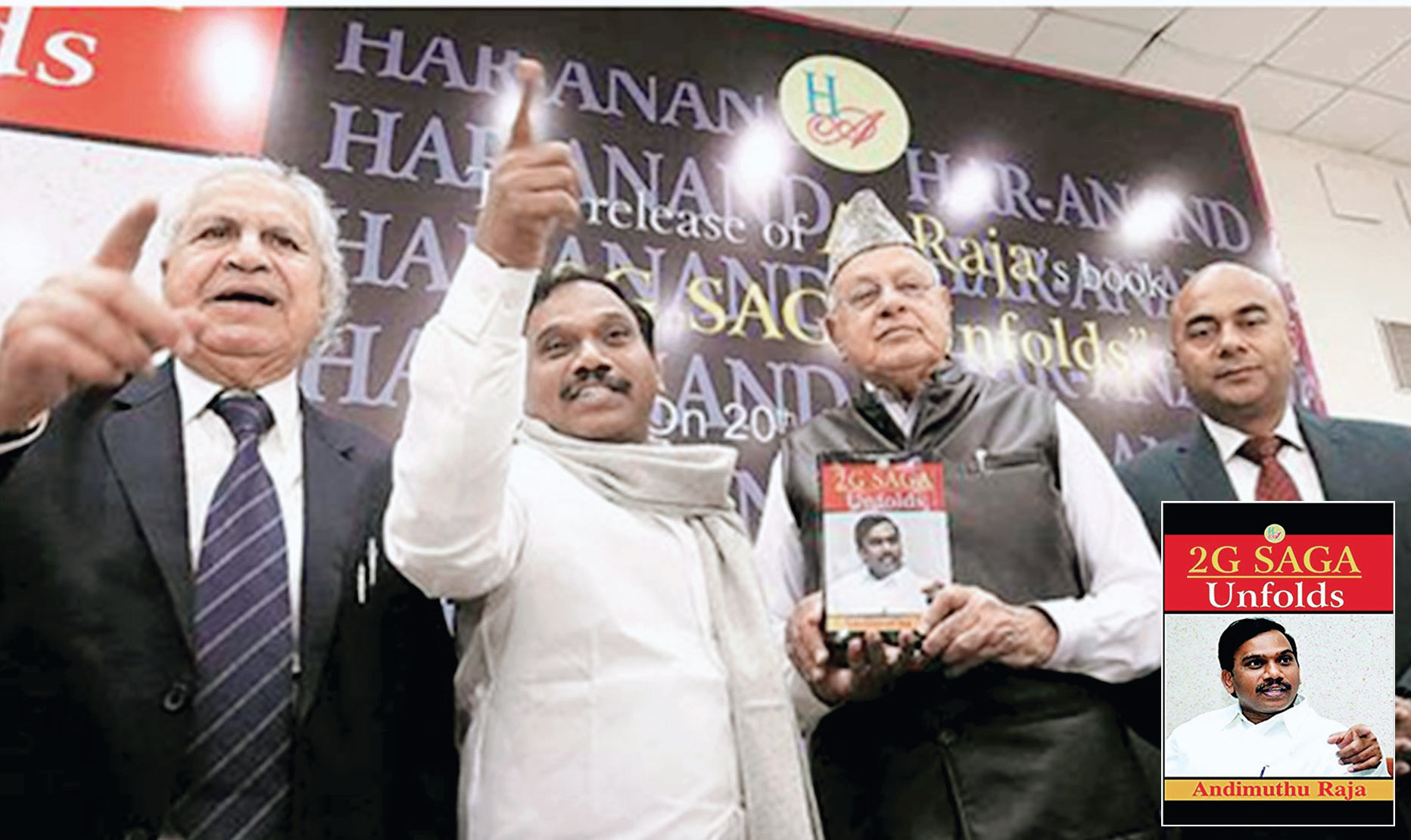 A Raja, the former telecom minister of India, accused and imprisoned for selling spectrum in the 2G bandwidth at prices that caused 'a loss to the nation', has come out with a book, his own version of the story, which the media is calling 'explosive'.
The day before the release, 21 January, Raja said, 'This is the first time I am disclosing this... I only got two copies of my book (initially). I kept one copy and rang up Manmohan Singh and said, ''Sir, I want to meet you."'
The Manmohan Singh-led UPA government lost the general election of 2014 as a fallout of the alleged 2G scam and its alliance with Dravida Munnetra Kazhagam a regional party of which Raja is an important pointsman.
In 2G Saga Unfolds, Raja writes he was pained by a note from then Prime Minister Manmohan Singh. 'It seemed he (Singh) had been led to believe that there was something amiss in the functioning of my ministry.' At the launch, the controversial J&K leader Farook Abdullah said the book was an honest account, 'I am happy that finally justice has been done'.
Raja said he had finished penning the book in 2015 itself but he decided to release it now. 'My talks with other publishers broke down earlier. I am happy that my current publisher came forward and decided to publish the book despite lot of troubles.'
The book by Har-Anand publishers came timely. Nearly six years after the Supreme Court cancelled the spectrum and licences allocated to eight companies, holding that the process was flawed, a special CBI court on 21 December 2017 acquitted all accused in the infamous 2G scam case. In the intervening years, several of the companies named in the 2008 case shut operations while DMK politicians A Raja and Kanimozhi Karunanidhi, named among the accused, were forced into jail and temporary political oblivion. His acquittal by the court 'vindicates' his position, Raja says. The prosecution did not provide sufficient evidence, the court said, dismissing the charges. Political analysts said, the charges were 'trumped up' to create public anger against the Congressled UPA government, so that it lost the 2014 elections.
In the book Raja calls the 2G Scam as a 'shameful blemish on the sanctity of the administrative system of the country'. Raja writes: 'It is my conviction consequent to the trial proceedings that there was political motivation to kill UPA 2 and Vinod Rai's was the shoulder on which the gun was placed.' Calling Rai a 'contract killer' Raja has now demanded an inquiry on then CAG Vinod Rai's role even as CBI is getting ready to appeal the court verdict in a higher court. So, all the shots have not been called yet, and this book is going to keep the political pot boiling for another six months at least.